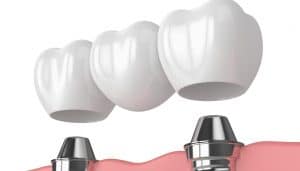 Most patients who have lost one or more teeth make excellent candidates for dental implants. The prosthetic posts, which are inserted into your jawbone, are biocompatible and designed for a healthy jawbone to fuse to them. However, there are certain things that could impact your candidacy for dental implants, such as the state of your dental health and any considerations that affect it. To help more patients in Encinitas/San Diego benefit from dental implants, we explain what some of those things are and how we can help you address them to boost your candidacy for dental implant placement.
Your Periodontal Health
Your periodontal health is one of the biggest impacts on your overall oral health, especially when it comes to tooth loss and dental implant placement. Periodontal disease systematically destroys the periodontal ligaments, gum tissues, and jawbone structure that support your teeth. If you've lost teeth because of the disease, then your periodontal expert will have to treat the disease and restore any of the structures that it has destroyed. Then, your jawbone and gums can more successfully support your dental implant posts as well as the rest of your healthy, natural teeth.
Your Jawbone's Integrity
A weakened jawbone is a common effect of periodontal disease, but it can also occur years after you've lost teeth. The absence of your teeth roots causes the stimulation in your jawbone to drop, and as a result, it receives fewer nutrients. Restoring this stimulation is one of the most important benefits of dental implants, but before they can be placed, your jawbone has to be strong enough to accept them. If yours has lost too much density, then we may recommend jawbone grafting to strengthen it.
Find Out if You Qualify for Dental Implants
Even if you aren't an excellent candidate for dental implants now, you can prepare your smile to receive them with proper care and maintenance from your periodontal expert. For more information, schedule a consultation with Dr. Kania by calling her periodontal office in Encinitas/San Diego, CA, at (760) 642-0711.