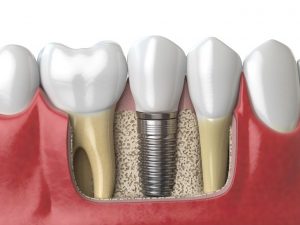 Your teeth are meant to last for life, even though there are many different things that could eventually lead to tooth loss if not addressed properly (like gum disease). Therefore, the best way to replace your lost teeth is with a prosthesis that also lasts for life, or as close to it as possible. For patients in Encinitas/Sand Diego, dental implants are often the best option. Implanted into your jawbone to replace your lost teeth roots, dental implant posts are biocompatible, meaning your jawbone will fuse to them as it heals following implant placement. With proper care and maintenance, the prosthetic teeth roots can last for life, giving your crown, bridge, or denture the support to last significantly longer than it would without it.
The Different Parts of a Dental Implant
The post of your dental implant restoration is what lasts for life because it has to. The point of an implant is to replace your lost tooth root, which is vital to the long-term health and integrity of your jawbone. This can only be accomplished due to the biocompatible titanium structure of the post, which your jawbone accepts and heals to as though it were a genuine tooth root. In addition to offering lifelong support for your replacement teeth, this also means that the post will provide a lifetime of stimulation to keep your jawbone properly nourished.
The Lifelong Benefits
Replacing your lost teeth roots and keeping your jawbone healthy are the keys to the lifelong benefits that dental implants provide. They're also the ways in which they help your custom restoration last longer. Because your jawbone remains strong and healthy, it won't change shape by losing mass and density, which means your bridge or denture won't lose its grip. The improved support also means that your restoration won't wear down or become damaged as easily, further improving its lifespan.
Find Out if You Qualify for Dental Implants
Dental implant posts can last for life with the right care and maintenance, and the restorations they support last longer thanks to the improved support they provide. For more information, schedule a consultation with Dr. Kania by calling her periodontal office in Encinitas/San Diego, CA, at (760) 642-0711.