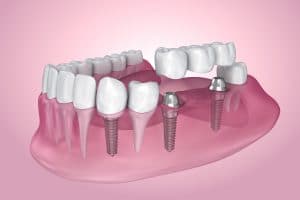 Dental implants have long been recognized by dental health professionals as the most comprehensive solution to replacing tooth loss. That's because they not only restore your smile's appearance, but also the unseen but vitally important of your lost teeth roots. For patients in Encinitas/San Diego, addressing tooth loss with dental implants helps them enjoy healthier, fuller, and more beautiful smile for longer. However, the benefits also include stronger and more youthful jawbone structure as well as a reduced risk of losing more teeth later.
What do implants do differently?
Traditional prostheses like bridge and dentures are highly successful at replacing the visible portions of your smile. Rather than changing that, dental implants boost that success by giving your prosthesis the same support system as your healthy, natural teeth. Implant posts are crafted from biocompatible titanium, which your jawbone fuses to and supports as though it were a natural root. This replaces the more traditional adhesives, clasps, and supportive crowns that replacement teeth used to rely on.
Can they last for life?
Because implant posts are designed to become parts of your jawbone's anatomy, they can last for life with proper care and maintenance. The custom-designed prosthesis attached to the implant posts may require replacement after years of use. However, the replacement will be much simpler and more comfortable thanks to the support of your biocompatible implant posts.
What if I already have a bridge or denture?
Patients who already have a bridge or denture in place often have the most questions about dental implants, and one of the most common questions is if they're existing prosthesis will affect their candidacy. Fortunately, most patients qualify for dental implant placement as long as their jawbones are strong enough and their oral and periodontal health is in good shape.
Find Out if You Should Consider Dental Implants
If you've lost one or more teeth, then ask us if dental implants could be your best option for replacing them and whether or not you're a good candidate for implant placement. For more information, schedule a consultation with Dr. Kania by calling her periodontal office in Encinitas/San Diego, CA, at (760) 642-0711.