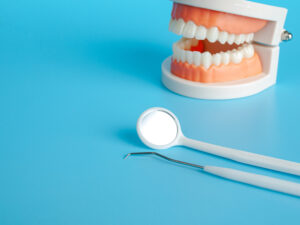 When you notice changes to your gum tissues, this means you should schedule a periodontal exam with our team. Often changes to your gums indicate the presence of gingivitis or even the early stages of gum disease! Using advanced imaging technology, your Encinitas/San Diego, CA, periodontist can offer detailed diagnosis.
When to Schedule a Visit
You may be referred to our office by your general dentist, but you should also consider making an appointment when you notice any changes to your gum tissues. For example, if they appear redder than usual, feel sore, bled easily, or if they begin to recede, this could be warning signs of gingivitis or even the early stages of periodontal disease. Lack of treatment could mean the issue grows in severity, and eventually leads to tooth loss and other complications.
Our Advanced Imaging Techniques
Our team will look at your dental history, and talk to you about your smile. But we also want to take a close look at your gingival tissues with advanced imaging technology, so we identify areas of concern and provide a diagnosis with precision and accuracy. With digital x-rays, we obtain clear and detailed images without the need for uncomfortable bitewings. The images will then be displayed instantly on a chairside monitor, no need to wait for a lengthy development process in harsh chemicals. We walk you through the diagnosis, and can take the images as needed to make a proper diagnosis and gain the information needed to plan your treatment. The technology also uses 90% less radiation, and the images are digital, so we can easily send them to other specialists as needed. We may also use images to create a 3D computer impression of your teeth and dental bridges.
What Happens Next?
Once we understand the threat posed to your smile, we will create a treatment plan to bring relief and protect your smile's stability. Our team often collaborates with other specialists, including orthodontics and oral surgeons, to ensure the whole treatment process is seamless. For the early stages, we could offer Supportive Periodontal Maintenance, antibiotics, and ozone therapy. We also have laser dentistry to conduct gum grafts and manage the disease, so you enjoy a full smile. Our team also takes care to ensure the results are attractive too!
If you have any questions about how we conduct a periodontal exam for your smile, then contact our team today to learn more. Let's keep your smile whole and healthy for years to come!
Talk To Your Encinitas/San Diego, CA Periodontist About an Exam
With advanced technology, we can make a diagnosis with precision and accuracy! If you would like to find out more about our periodontal exams, call Dr. Kania's office in Encinitas/San Diego, CA, at (760) 642-0711.