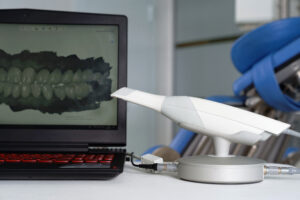 When you begin to exhibit warning signs of periodontal disease, or if your general dentist refers to you to us, then you may need to undergo treatment. To plan the process, our team needs to obtain a diagnosis. In today's blog, your Encinitas/San Diego, CA, periodontist talks about our diagnostic imagery.
Warning Signs and Referrals
How do you know if your gums are in trouble? You may notice substantial changes at first, such as redness or possible soreness. As the inflammation increases, the tissues could bleed easily when you brush or floss, or even start to recede. When you begin to experience changes to your smile, let us know right away! Your general dentist could also identify these possible warning signs of periodontal disease, and may refer you to our office for further treatment. As a periodontist, our doctor has the skills and experience to help manage the disease and protect your smile. But everything starts with diagnostic imagery.
Digital X-Rays and Impressions
We want to obtain a diagnosis with precision and accuracy, so we can plan your treatment in detail and either reverse gingivitis or manage gum disease to prevent complications like discomfort or tooth loss. To get started, we will require the records of your dental and medical history, and we may work alongside your general dentist, or other specialists like oral surgeons or orthodontist, as part of the treatment process. With digital x-rays, we obtain very clear and detailed images of your smile and oral structures, which are available instantly on chairside monitors. The system uses a fraction of the radiation, and doesn't require lengthy development periods either. In addition to a diagnosis, we can use the images to create detailed 3D impressions, which aid in future treatments.
Starting Treatment
For minor cases, we could recommend a deep cleaning, or scaling and root planing, to begin managing the concern. Our team could also discuss Ozone Therapy and the use of certain medications. For more advanced cases, we could employ dental lasers to remove diseased tissues and also aid in gum grafts to correct recession and leave the disease in a more manageable state, so we can help you maintain a whole and beautiful smile.
If you have any questions about how our team will diagnose your periodontal concerns and offer treatment with advanced technology, then contact our team today to learn more. We want to help you enjoy your best smile!
Talk To Your Encinitas/San Diego, CA Periodontist About Your Diagnosis
We would like to help you enjoy a healthy and whole smile. If you would like to learn more about preventing or treating issues like gum disease, then call Dr. Kania's office in Encinitas/San Diego, CA, at (760) 642-0711.