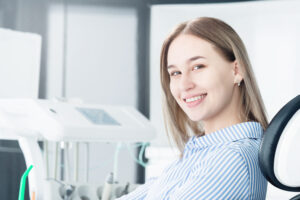 When you have problems with gum disease, the right care can help you avoid potentially serious problems. As bacteria under your gums continue to spread and multiply, you need to be concerned about issues like tissue damage that leads to tooth loss, as well as about problems with the movement of harmful microbes through your bloodstream, which can lead to problems in other areas. At our Encinitas/San Diego, CA periodontal practice, we can offer different services to help people with different degrees of problems. In addition to using the right tools to provide periodontal care, we rely on digital imaging technology to help us evaluate you and determine what kind of treatments are right for you.
How Can I Make Sure My Periodontal Problems Are Properly Managed?
The first stage of an infection, gingivitis, is one that is reversible, meaning it can be treated before you have to address complications or manage long-term difficulties. If the right care is not provided in time, you can experience issues with periodontal disease, and that can call for more involved support. If you have questions or concerns about your periodontal health, our practice can help. Through a detailed diagnostic review, we can see just what you are up against when it comes to gum disease. From there, we can recommend different options for care that rely on advanced tools and treatments. These tools include lasers, which make more precise treatment and easier recovery times possible.
Using Digital Tools To Carefully Study Your Condition
Your diagnostic review will tell us how serious your problems are, and from that information we can determine what kind of care you should enjoy. If there is still time to do, we can reverse gingivitis through a scaling and root planing. To manage a more serious infection, we can recommend that you start planning Supportive Periodontal Maintenance, a series of treatments that will keep you safe from complications.
Relying On Lasers To Tend To Unhealthy Gums
If you need work done to restore unhealthy tissues and fight bacteria buildup, we can recommend laser periodontal care. Through treatment with our LANAP laser or our REPAIR WaterLase laser, we can carefully tend to infected tissues and remove them so that your body will respond by growing healthy gums. During your procedure, we will also use lasers to directly clear away bacteria on the roots of your teeth.
Talk To Your Encinitas/San Diego, CA Periodontist About Treating Your Issues With Gum Disease
By properly treating your issues with gum disease, our practice can help you avoid potentially serious complications that put your smile and general well-being at risk. If you would like to find out more about how we can help you, call Dr. Kania's office in Encinitas/San Diego, CA, at (760) 642-0711.