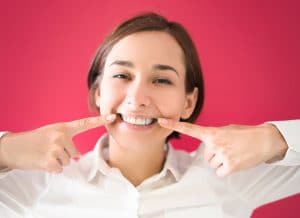 If you detect and treat gum disease early enough, you can often prevent it from causing extensive damage to your gum tissues. Even if the disease can't be reversed, you can control it and stop it from becoming severe. However, once it does progress far enough, it may cause enough tissue damage to require a small portion of your gums be trimmed. At our Encinitas/San Diego periodontal office, we can often perform periodontal surgery with the help of an advanced, specially calibrated laser. The laser-assisted new attachment protocol allows us to restore your good periodontal health in a much more comfortable and precise manner than traditional periodontal surgery.
What LANAP treatment consists of
Surgically trimming diseased gum tissues isn't preferable unless it's absolutely necessary. Before recommending it, we'll perform a comprehensive examination to ensure that the tissue cannot be healed and reattached to your teeth roots non-surgically. However, in progressed stages of the disease, some areas of tissues may have to be removed to allow the healthy tissue to heal and reattach. Trimming the diseased tissue with a soft-tissue laser helps us complete this process without the need for a scalpel, which offers several significant benefits for your long-term oral and periodontal health.
The benefits of laser gum disease treatment
Using the LANAP procedure to address severely diseased gum tissues provides a number of advantages compared to traditional, scalpel-based surgery. For example:
The enhanced precision of the laser helps ensure that only the diseased tissue is removed, with minimal or no damage to the healthy tissues nearby.
The laser also helps eradicate harmful oral bacteria as it passes over your gums, improving the healing and attachment process.
Compared to scalpel surgery, laser-based treatment comes with a significantly lower risk of complications, such as infection, during healing.
There is typically no need for sutures after the procedure, which means the healing process is usually faster and more comfortable.
Further maintenance is necessary
The LANAP protocol is just one of several holistic, minimally invasive methods we employ to help you regain your healthy smile and avoid the potentially serious consequences of gum disease. While the procedure is often enough to stop the disease's progression, it can continue to progress without a regular schedule of periodontal maintenance afterward. By keeping a close eye on your gums and their health, we can ensure that you can continue to enjoy a healthy smile for life.
Learn more about LANAP
With the advanced LANAP procedure, we can help you gain control of your periodontal health more comfortably and with more precise results. For more information, schedule a consultation with Dr. Kania by calling her periodontal office in Encinitas/San Diego, CA, at (760) 642-0711.