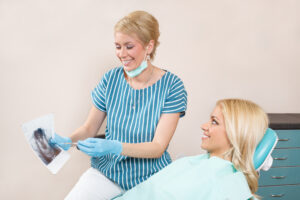 The longer it takes a person to recognize the need for gum disease treatment, the more likely they are to have complications that need to be addressed. One of those complications comes in the form of tissue damage. Oral bacteria that accumulate on the roots of teeth can destroy your gums and bone tissues that support teeth, which can make them less stable and vulnerable to being lost. There are different ways in which our Encinitas/San Diego, CA periodontist can help you when you are struggling with the different effects of periodontal disease. One form of support we can offer is PRP therapy, a process that uses platelet-rich plasma to stimulate the body's natural recovery method to address damage.
Poorly Managed Periodontal Problems Can Lead To Serious Tissue Damage
Trouble with gingivitis can be identified and treated before there are complications that have to be managed over time. Unfortunately, not everyone who experiences trouble with poor gum health will receive that care before there are complications. A more advanced infection will require more involved services to both manage the problem itself and deal with its effects. Dr. Kania can work with you to make sure your needs are completely met. From the information we gather through diagnostic imaging, we can see if issues like tissue damage need to be taken on to help you resolve problems with your well-being and appearance.
Using The Body's Natural Healing Process To Encourage Recovery
Platelet-rich plasma therapy (PRP therapy) is a holistic treatment that takes on tissue damage you have experienced due to your infection. The procedure uses plasma rich in platelets, which already work to naturally heal injuries, to stimulate growth in areas where infections have caused damage to occur. In addition to using this approach, we can use a platelet-rich fibrin matrix to encourage healing when you have are trying to heal jawbone damage to prepare for prosthetic dental work with dental implants.
We Can Use Laser Treatment To Remove Diseased Tissues And Encourage The Growth Of Healthy Gums
To help patients deal with their periodontal disease, we may recommend the use of laser tools to carefully remove bacteria as well as infected tissues. Through this removal, we can encourage your body to go through the process of growing new gums to replace what was removed.
Talk To Your Encinitas/San Diego, CA Periodontist About PRP Therapy!
Problems with gum disease can take a toll on your health and quality of life in many different ways. One serious concern is tissue damage; by taking care of this through PRP therapy, we can encourage natural growth to help you with recovery! If you would like to find out more about how we can take care of you, please call Dr. Kania's office in Encinitas/San Diego, CA, at (760) 642-0711.