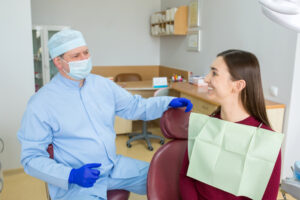 What kind of harm can periodontal disease do to your gums? In time, the tissue damage can rob teeth of their support, which is why many who suffer from this condition can experience tooth loss! Tissue damage can be an understandable source of concern, but it is one that your Encinitas/San Diego, CA periodontist is ready to help you manage. One way we do this is by offering platelet rich plasma (PRP) therapy. This approach can lead to better recovery thanks to a holistic solution that uses platelets, which are used by the body for healing. Plasma with higher concentrations of platelets can help with healing and recovery, making it a welcome addition to a larger strategy for treating your infection.
Tissue Damage Caused By Periodontal Disease Can Be A Serious Concern
As bacteria gather and spread on the roots of your teeth, they can have many consequences for your well-being. One concern is that your periodontal disease will cause tissue significant damage to take place, which can worsen the overall health of your gums and create risks for potential complications. As part of our assessment of your periodontal health, we can look at the damage that you have already experienced and determine what we can do to help you. If we do have concerns about the destruction of your gums, we can discuss the potential benefits to PRP therapy.
PRP Therapy Provides A Holistic Treatment For Those Affected By Poor Gum Health
Holistic treatments can be more comfortable for people to engage in, as they work with the body's natural recovery process to provide more natural solutions to problems. Platelets are used in the restoration of damaged muscles, tissues, and ligaments. By using PRP therapy to treat your gums, we are using what your body already depends on for healing and restoration.
PRF Therapy And Prosthetic Dental Work
Before you can have your smile completely restored with an implant-held restoration, you need to give your jaw time to heal after your dental implant is put in position. To encourage the recovery of your jawbone structure, we can recommend PRF therapy, which relies on a fibrin matrix to stimulate targeted healing!
Talk To Your Encinitas/San Diego, CA Periodontist About PRP Therapy And Its Benefits!
There are several services that can help you if you are trying to recover from the effects of periodontal disease. Through platelet rich plasma therapy, we can employ a holistic recovery strategy that relies on the body's natural healing process to produce positive results! If you would like to learn more about this service, or if there are any other matters related to your periodontal health that we can help you with, call Dr. Kania's practice in the Encinitas/San Diego, CA area today at (760) 642-0711.