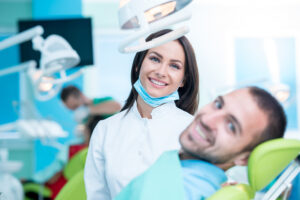 To effectively protect yourself against the threat of periodontal disease, you should have a good routine in place for fighting oral bacteria. When that routine features both good hygiene efforts at home and general dental visits, you can control your risks for problems with gum disease as well as dental decay. With that said, a person who is already dealing with a history of poor periodontal health may require a different approach. Through Supportive Periodontal Maintenance, our Encinitas/San Diego, CA periodontal practice can help you manage your well-being through recurring sessions that remove bacteria from the roots of teeth. Providing this service on a regular basis will help you avoid the complications that can occur when periodontal disease is not kept under control.
Why You Might Need More Than Just A Traditional Teeth Cleaning
A traditional teeth cleaning effectively resolves problems with tartar and plaque buildup on the surfaces of teeth. For the average patient, semiannual sessions with a dental hygienist will effectively help prevent difficulties with cavities and gum disease. For someone who has past issues with periodontal disease that they want to manage, it can be necessary to look at a different approach. Supportive Periodontal Maintenance can take place at a recommended frequency, often taking place every three months. This service will fully remove bacteria from your teeth, including from the roots beneath your gums.
Starting Your Supportive Periodontal Maintenance Sessions
The complications linked to unchecked periodontal disease can be serious. In time, issues with a serious infection can cause periodontal pockets to deepen, weaken the support teeth rely on to stay in position, and leave you more vulnerable to general health complications. Through your regular appointments, the bacteria present on your roots will be dealt with to stop worsening problems from occurring. When this is done consistently, you are less likely to experience the problems that periodontal disease can cause.
We Can Help If Your Infection Currently Requires More Advanced Support
Through different services that we provide, we can help patients who are already struggling to regain their health because of a serious infection. When appropriate, we can rely on laser technology to deal with bacteria buildup, and to remove unhealthy tissues so that you can experience healthy gum growth. We can also review the different holistic treatment options we can provide to make your care easier.
Talk To Your Encinitas/San Diego, CA Periodontist About Starting Supportive Periodontal Maintenance
Through the start of Supportive Periodontal Maintenance, you can count on reliable support against worsening issues with periodontal disease. If you would like to learn more about how our practice can help you by providing this service, or how we can support you through one of our other treatment options, please call Dr. Kania's office in Encinitas/San Diego, CA, at (760) 642-0711.