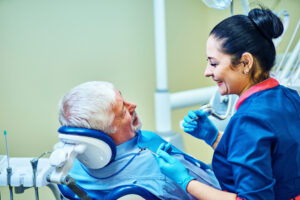 For a person with a healthy smile, semiannual dental checkups can certainly be beneficial. However, an individual who struggles with periodontal disease can require more frequent visits with an oral health professional. To keep your infection under control and prevent complications, we can see you for consistent Supportive Periodontal Maintenance. This service is often provided quarterly; at three month intervals, you can visit our Encinitas/San Diego, CA periodontal practice to undergo advanced cleanings that fight the accumulation of bacteria under your gum line. By providing this service, we can help you avoid complications with your oral health that can call for more advanced treatments at a later date.
Uncontrolled Problems With Gum Disease Can Be Serious
Simply put, you should not ignore the warning signs of gum disease. The longer you let problems with your periodontal health go untreated, the more they can ultimately impact you. Those who have more severe difficulties with periodontal disease can find themselves at greater risk for tooth loss. They can also have more trouble managing their general health, as an infection can make controlling certain other problems harder. You also need to be aware of the threat from the spread of bacteria through the bloodstream, which can lead to more trouble.
Should I Start Supportive Periodontal Maintenance?
After a diagnostic review, our practice can determine just how serious your issues with gum disease have become, and what should take place to manage them. If caught in time, a scaling and root planing can actually reverse the first stage of infection, gingivitis, so that you do not have long-term issues to manage. With Supportive Periodontal Maintenance, we can regularly tend to bacteria on the roots of your teeth so that your condition does not grow more serious.
We Can Offer More Involved Periodontal Services When Appropriate
When potentially serious issues are identified, we can recommend that you undergo more involved treatment to manage your periodontal health. That can include services that rely on soft tissue lasers to deal with infected tissues and bacteria. We can also discuss services like gum grafting treatment to improve your oral health and appearance. For those who have suffered tooth loss because of gum disease, we are here to help with implant dentistry.
Talk To Your Encinitas/San Diego, CA Periodontist About Maintaining Your Gum Health
Through the right services, we can help you care for your gums and prevent potentially serious issues from arising. Our practice can recommend Supportive Periodontal Maintenance as a means of controlling an infection and preventing complications. We can also discuss more involved services that are able to deal with more serious difficulties. If you would like to find out more, or if you have any concerns about your well-being, call Dr. Kania's office in Encinitas/San Diego, CA, at (760) 642-0711.