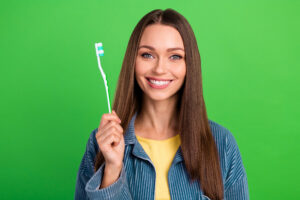 If you have problems with advanced gum disease, a visit with a periodontist can be a valuable part of a larger plan to restore your overall oral health. At our Encinitas/San Diego, CA periodontal practice, we can provide important in-office services that are able to control significant infections and address tissue damage. We can also provide guidance to help you adjust your routine at home in order to better protect yourself. Beyond offering guidance when it comes to matters of oral and periodontal hygiene, we can provide a new form of support in the form of Perio Protect. This gives you a way to directly attack unwelcome microbes with targeted antibacterial treatments for the soft tissues that support your teeth.
Are You Currently Doing Enough To Prevent Periodontal Problems?
Whether you want to fight back against active periodontal problems or hope to prevent future difficulties, your daily hygiene efforts can help you. Brushing and flossing each day will help you fight the buildup of bacteria that cause problems as they gather on the roots of your teeth. In addition to defending yourself in this way, you can make yourself less susceptible to difficulties with your mouth and other health concerns when you eliminate tobacco use. We offer guidance to help you stay on top of your needs at home, and we offer more advanced in-office services to prevent future difficulties.
The Importance Of Good Daily Hygiene For Protecting Your Gums
Through good daily efforts to protect yourself, you can keep up with a smile care routine that protects your gums. Brushing and flossing both help with this. When you perform both, make sure that you work to clean those spaces where teeth and gums meet so that microbes in these spaces are removed. For added support, we can provide you with Perio Protect, a personalized daily treatment that lets you fight harmful agents with antimicrobial treatments that are applied directly to periodontal tissues.
Fighting Gum Disease At A Specialist's Office
Because our practice is committed to periodontal care, we provide services that are able to resolve problems of varying degrees. For some patients, we can recommend starting supportive periodontal maintenance as an alternative to dental cleanings. Those who need more help can benefit from more involved services, including treatments for poor gum health that rely on laser tools.
Talk To Your Encinitas/San Diego, CA Periodontist About Protecting Your Gums!
By making a commitment to protecting your gums each day, you can defend yourself against the health complications linked to advanced gum disease. Our practice is ready to help you by offering both guidance and in-office care when appropriate. For more information on what we can do for you, call Dr. Kania's office in Encinitas/San Diego, CA, at (760) 642-0711.