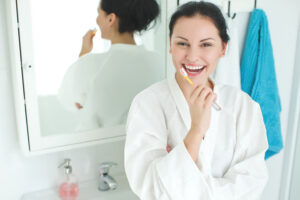 What connects your daily oral hygiene routine and the health of your gums? Simply put, your brushing and flossing should give you protection against dental as well as periodontal problems. With the right efforts, you can clear away bacteria before they accumulate under your gums and create problems with your periodontal health. For patients who have concerns about the current state of their gums, our Encinitas/San Diego, CA periodontist's office can help. An evaluation can let us know how severe your infection has become, and from there we can discuss your options for care. We can also offer additional support for your daily routine in the form of Perio Protect!
Are You Doing Enough To Preserve Your Periodontal Health?
The more that you do for your overall oral health, the less you have to worry about from periodontal disease. Good hygiene controls the buildup of plaque and tartar, which can stop bacteria from gathering under your gums and on the roots of your teeth. If you are not taking the care of these tissues seriously, you are more likely to experience the kind of complications with your health that result in an infection that raises your risk for tooth loss and general health problems!
An Effective Approach To Maintaining Healthy Gums
When you brush and floss, you should take care to fully clean the surfaces of your teeth. Caring for your gumline by cleaning thoroughly at the bases of teeth can stop bacteria from moving beneath the tissues and creating more difficulties for you. If you have a history of trouble with gingivitis and gum disease, you can talk to us about taking home Perio Protect, a set that lets you directly apply antimicrobial agents the tissues to protect them.
Worried You Might Have An Infection? We Can Bring You In For A Diagnostic Review
Rather than letting your potential issues with gum disease go untreated, you should look into care options if you think that something is wrong. When you have questions about your health, you can schedule a diagnostic review of your periodontal tissues, which can let us know just how severe your troubles might be. Based on that information, we can look into the benefits of preventive care, or we can explore options for more involved services.
Talk To Your Encinitas/San Diego, CA Periodontist About Your Hygiene And Health
Better oral hygiene can prevent the kinds of problems with your periodontal health that make a trip to a specialist appropriate. Whether you want to avoid problems or address them, our practice is here to help! If you would like to learn more about preventive periodontal care, or if you have questions about treatments for active problems, please call Dr. Kania's office in Encinitas/San Diego, CA, at (760) 642-0711.