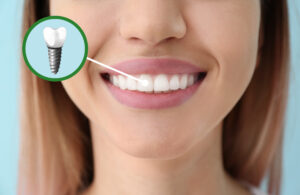 Periodontal disease not only causes sore and bleeding gums, but in a late stage could lead to missing teeth. But once you lose your natural teeth, what happens next? Well, you could enjoy a lifelike replacement with dental implants! In today's blog, your Encinitas/San Diego, CA, periodontist talks about implant dentistry.
Missing Teeth and Gum Disease
At the advanced stage, periodontitis actually destroys the tissues that connect your teeth and gums. Without these, the teeth become loose and eventually fall out. In fact, this is the most common cause of adult tooth loss. When we have missing teeth, this could cause a gradual breakdown in the jawbone tissue, leading to further tooth loss and an aged appearance. Not to mention the risk of concerns like misalignment, TMJ disorder, bruxism, and issues eating and speaking. But with dental implants, we can address tooth loss with a long-lasting and durable replacement option. First however, we have to address your periodontal concerns.
Preparing Your Smile
Our team will first assess the factors behind your tooth loss. If you have periodontitis, then we need to manage the disease to prevent the risk of implant failure. With laser dentistry we can remove diseased tissues and allow healthy ones to adhere to the smile. We can correct recession with the Pinhole Surgical Technique, and afterward, routine preventive treatments can help keep the disease in check. Now, we can tackle your tooth loss.
Our team will examine your smile with digital x-rays to assess the strength of your jawbone and make sure you don't first need grafting or sinus lifts to strengthen the smile and make supporting implants possible. We then guide the dental implants into place with digital technology, choosing the right angle and position to support new teeth.
Placing Dental Implants
Once we surgically insert the post into your smile, they will bond with the jaw through a process known as osseointegration. This secures them like natural roots, and prevents further breakdowns in the jaw. As a result, your new teeth can last for decades to come, possibly a lifetime. When the piedmont area heals, our team will connect an abutment to them that extends above the gum line. We then connect a restoration to complete the smile. If you have several missing teeth, then multiple posts could secure a bridge or even a full set of fixed dentures.
If you have any questions about implant dentistry, then contact our team today.
Talk To Your Encinitas/San Diego, CA Periodontist About Addressing Missing Teeth
Our team wants to address the tooth loss that could otherwise harm your smile's health and appearance. If you would like to start your journey to a full smile again, then call Dr. Kania's office in Encinitas/San Diego, CA, at (760) 642-0711.