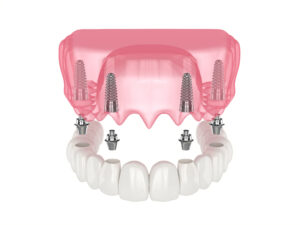 We offer periodontal treatment to not only manage the disease and fight discomfort, but to prevent tooth loss too. Once you lose teeth, this could lead to an increased risk of further tooth loss and an aged appearance. However, your Encinitas/San Diego, CA, periodontist can offer a full smile with implant dentistry.
Periodontitis and Tooth Loss
First, let's discuss the link between untreated gum disease and tooth loss. When you develop periodontal disease, you could experience sore, red, and bleeding gums. You could also notice gum recession as well. At this stage, you need treatment to manage the issue and prevent major complications. Otherwise, the disease grows in severity until periodontitis develops, which destroys the tissue connecting your teeth and gums. In fact, this is the most common use of adult tooth loss. Missing teeth then increase the risk of weakened jawbones, further tooth loss, and an aged appearance. To prevent these complications and preserve your jawbone's integrity, you need to seek teeth replacement with dental implants.
Preparing Your Smile
First, we will carefully examine your smile and take action to help manage the disease, so you can receive new teeth without fear of implant failure. We then see if the jaw needs to undergo grafting or sinus lifts to ensure there is enough structure to support one or more new teeth. We then plan the placement process with detailed digital technology.
Placement and Restoration
The dental implant post, made from a biocompatible titanium, is then inserted into the jawbone at a specific angle and position to stimulate the growth of bone structure and ensure the new tooth can last for decades to come. As the placement area heals, we will attach an abutment to the post that allows us to connect the restoration, or the part people see when you smile. This is in the form of a crown for individual tooth replacement, or a prosthetic if you have lost several teeth. Action is taken to ensure they not only support daily bite forces, but also offer a lifelike appearance too!
If you have any questions about how we diagnose and manage issues like gum tissue, and how we replace missing teeth with lifelike and durable dental implants, then contact our team today to learn more. We want to help you enjoy good gum health and a whole smile.
Talk To Your Encinitas/San Diego, CA Periodontist About Addressing Missing Teeth
Our periodontal treatments can help prevent lost teeth and implant dentistry can replace missing teeth. If you would like to find out more about treating the loss of natural teeth and safeguarding the strength and stability of your smile, then call Dr. Kania's office in Encinitas/San Diego, CA, at (760) 642-0711.