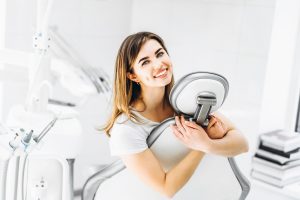 If you have a problem with gum disease that you are not managing, you can be vulnerable to tooth loss and other serious concerns. Fortunately, you can bring up your issues with a periodontist who can evaluate you to determine the severity of your infection and recommend treatment options. Have you been putting off a visit with a periodontist to discuss your worries? Patients sometimes put off an appointment because they have anxieties around dental care, or because they are unsure of how a specialist can help them. More recently, people worried about their safety may have forgone appointments out of coronavirus concerns. Our Encinitas/San Diego, CA periodontal practice has taken steps to keep our practice safe, and we can work to make sure you receive the appropriate care in a welcoming and friendly environment.
Our Efforts To Maintain A Safe Office For Our Patients And Team Members
In response to the threat of coronavirus, our practice has made changes to the way we operate to keep our environment safe for both our patients and team members. We have followed guidelines from the CDC and ADA to update our operations in ways that protect visitors from infection. The changes we have made include adjustments to our scheduling practices to limit person-to-person encounters, the introduction of more sanitation stations, and the removal of commonly handled items in our waiting area. We have also brought in air purifying technology to help remove potentially harmful microbes.
How Lasers Lead To More Comfort And Shorter Healing After Treatment
If you are concerned about the effect a periodontal procedure might have on you, or what your experience with recovery might be like, we can talk to you about the benefits of gum treatment with lasers. Through the use of our LANAP laser or REPAIR laser, we can minimize changes to your tissues while removing bacteria and infected areas, and we can also shorten your overall healing time!
Do You Struggle With Dental Anxiety? Sedation Can Help!
For someone who is anxious about any kind of dental or periodontal care, any appointment to discuss gum disease can be a potential stressor. If your unease makes the idea of arranging treatment hard to contemplate, know that we can provide dental sedation to make your experience less taxing! Through this, we can help you keep calm and aware of what is happening while we take care of you.
Talk To Dr. Kania About Scheduling Periodontal Care
Whether you have put off an appointment to discuss gum disease out of concern for coronavirus, or because of other concerns you have around dental care, we can help! To learn more about what we can do for you, please call Dr. Kania's office in Encinitas/San Diego, CA, at (760) 642-0711.