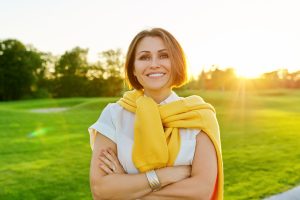 How can your oral hygiene efforts impact your appearance? Fighting teeth stains and maintaining strong, healthy enamel can have obvious benefits for your smile. You should know that periodontal care is also important for the way you look. When periodontal disease affects you, it makes you vulnerable to potentially serious issues, including tooth loss. Problems with your periodontal health will also leave you more likely to experience issues with gum line recession, something that can have a negative effect on your appearance and well-being. Our Encinitas/San Diego, CA periodontal practice can protect you against the effects of an infection. If your poor gum health has already caused more serious difficulties, we can determine what procedure or procedures are right for protecting these tissues.
The Impact Unhealthy Gums Can Have On Your Appearance
It is important to recognize that periodontal disease has the potential to create serious trouble for your health. Problems with poor periodontal health can make it difficult for you to manage other health conditions, it can cause the deterioration of tissues supporting teeth (which leads to tooth loss), and it can even raise your risk for heart troubles over time. Problems with gum disease can also impact your appearance by causing tooth loss, making gums swollen and discolored, and by causing noticeable recession.
Tips For Preventing Periodontal Disease
Preventing periodontal disease starts with good daily habits. When you brush and floss, you fight the bacteria that can infiltrate your gum line and cause problems for your well-being. Better preventive care can keep gingivitis from becoming a problem – with the assistance of Perio Protect, you can do more to fight an infection. Your regular visits to your dentist also help. When you struggle with an infection, we can discuss more involved treatments to address the impact on your appearance and health.
We Can Help People Who Are Already Struggling With Periodontal Disease
Without the proper treatments, periodontal disease can be difficult to manage. Our practice provides a variety of services, including treatments with lasers to fight periodontal bacteria, to help those who struggle with more severe infections. With our diagnostic imaging technology, we can determine how serious your condition is, and from there we can determine what approach we should take to combat it!
Talk To Your Encinitas/San Diego, CA Periodontist About Protecting Your Smile
Through proper periodontal care, you can find it easier to maintain a healthy and attractive smile! With Dr. Kania's help, you can fight an active concern with gum disease, or you can come to see us for helpful preventive periodontal care so that you can avoid long-term complications. If you wish to find out more, please call our periodontal office in Encinitas/San Diego, CA, at (760) 642-0711.