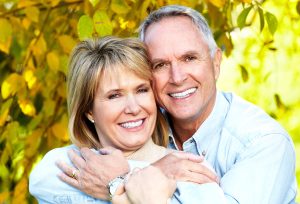 Tooth loss is one of many consequences people face when they have poor periodontal health. Losing just one tooth can negatively affect your well-being, and it can also create significant problems with your appearance. At our Encinitas/San Diego, CA periodontal practice, we can work with you to help you regain your complete smile. By placing a dental implant, we can provide stability for a permanent restoration, one that can improve your appearance and give you back your natural bite function. Because we provide advanced periodontal services, we can also take on problems with poor health that have stopped you from moving forward with the restoration of your smile.
Implant Dentistry And The Restoration Of Your Smile
Implant dentistry gives you important support for a prosthetic tooth. It will be inserted carefully into your jawbone after we determine the correct angle and location to provide the support you require. In this position, it can actually stimulate your jawbone and prevent a loss of density, something that can negatively impact your appearance as well as your oral health. Your implant will also help stabilize neighboring teeth and keep them secure.
Are You Ready To Undergo Treatment?
Before we move forward with your treatment, Dr. Kania will perform a thorough review to make sure there are no issues that need to be addressed. Different concerns can arise that interfere with implant placement. If you have unresolved problems with periodontal disease, we can recommend different options to address it. We can also provide a laser jawbone grafting procedure to ensure that the bone is strong enough to hold the implant once placed.
Effective Periodontal Care Can Lower Your Risk For Tooth Loss
Whether you are trying to preserve your full smile or hoping to avoid further losses, the right approach to managing severe gum disease will be important. At our practice, we can offer a detailed diagnostic review of your periodontal health, and from there we can recommend different treatment options to help you avoid further difficulties. In addition to preventive services, we can provide more involved services that help by fighting bacteria buildup, encouraging healthy tissue growth, and limiting your risk for new complications.
Talk To Your Encinitas/San Diego, CA Periodontist About Dental Implant Placement
Through the work of placing a dental implant, our practice can give you the means of permanently supporting a stable, lifelike prosthetic appliance. Remember that our practice is here to help prepare you for the receipt of your implant if there are current problems affecting your candidacy, too. If you would like to find out more about how we can help you deal with existing tooth loss issues and prevent further losses, please call Dr. Kania's office in Encinitas/San Diego, CA, at (760) 642-0711.