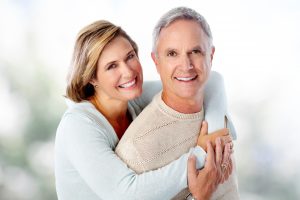 The unfortunate truth is that many people who have issues with periodontal disease will lose teeth. Fortunately, timely treatments help you control the effect that an infection can have on your smile, which can lower your risk for this. With that said, even if you have already experienced tooth loss, our Encinitas/San Diego, CA periodontal practice can help you regain your complete smile. We can meet with you to discuss the placement of a dental implant, or multiple dental implants, which can play an important role in prosthetic dental work. We can also help you if ongoing struggles with poor gum health affect your candidacy for the implant placement procedure.
Poor Periodontal Health Can Lead To Tooth Loss
If too much time passes without the right treatment, a problem with gingivitis can grow more serious, which can lead to consequences for your smile as well as your general well-being. One issue to watch out for is gradual tissue damage, which can rob teeth of support and eventually make it necessary to extract them. Complications from periodontal disease cause tooth loss more often in adults than any other cause. If you respond in time, we can help you avoid this fate. We can also work with you to address the problem by providing an implant placement procedure.
Using Dental Implants To Restore Your Full Smile
Implant dentistry has helped many people regain confidence in their bite function and smile through the placement of posts that anchor replacement teeth. With their support, crowns, bridges, and other restorations can be secured to close gaps created by tooth loss. In addition to holding your restorations in position, they help by renewing the stimulation in your jawbone that used to be provided by teeth roots. This is important, as it help you avoid jawbone deterioration.
We Can Prepare You For A Successful Implant Placement
When necessary, we can provide preliminary procedures that help patients qualify for dental implant placement. This may call for care to manage ongoing problems with periodontal disease that have not been resolved properly. We can also perform laser jawbone grafting treatment to make sure the tissues are strong and healthy enough to hold your implant properly.
Talk To Your Encinitas/San Diego, CA Periodontist About Implant Dentistry
Through the placement of dental implants, we can prepare patients to have their full smiles restored after tooth loss. This is one of the many services that our practice provides to help individuals who have been impacted by periodontal disease. We can meet with you to provide details about our different services, and we can perform diagnostic reviews to determine what we can do to best fight your issues with poor periodontal health. If you would like to learn more, call Dr. Kania's office in Encinitas/San Diego, CA, at (760) 642-0711.