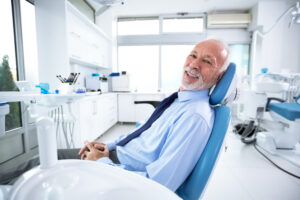 Your periodontal health can ultimately impact your ability to preserve your full smile, and it can be more influential than you expect in regards to your general well-being. What this means is that if you have a history of problems with your gums, you should take their condition seriously. Our Encinitas/San Diego, CA periodontal practice is prepared to help you manage a periodontal infection and protect you against complications. We can do this in different ways, as we offer both holistic services and treatments that depend on laser technology to provide better experiences in the dental chair. A thorough diagnostic review can tell us more about your health issues and needs so that we can proceed to deliver the right support.
The Value Of Dedicated Periodontal Care
Dedicated support for periodontal disease protects you against the worrying consequences of an infection. When you are not managing problems with your gums effectively, you are more likely to have concerns about tooth loss, as the bacteria on your teeth roots will attack surrounding soft tissues and weaken the support they provide. Another concern is that those bacteria can enter the bloodstream and move to different areas, which can lead to the onset of new problems that make your general health more difficult to manage. By taking these concerns seriously and seeing a specialist, you can stop problems from worsening and protect yourself against future complications.
A Diagnostic Review Lets Us Know How We Can Help You
Through a careful diagnostic review, we can see what kind of support you might require. Some patients who seek help will secure it in time to start a regimen of supportive periodontal maintenance. An alternative to traditional teeth cleanings, your maintenance appointments will regularly fight the buildup of microbes on your roots that threaten your gums. If something more advanced is needed to help manage your condition, we can explain what your options are. We offer different options for holistic treatments as well as options in care that relies on advanced oral health lasers.
We Have Options When It Comes To Laser Treatment
We provide care with the REPAIR WaterLase laser and our LANAP PerioLase treatment to patients who have more advanced issues with gum disease. Having the choice between the two can help us provide a more personalized care experience, one that is best suited to meeting your needs. Treatments with laser technology are effective at preserving more healthy tissues and generally making you more comfortable as we work to remove infected gums and bacteria.
Talk To Your Encinitas/San Diego, CA Periodontal Practice About Personalized Care
Through a commitment to personalized care for your gums, our practice can help you defend against a potentially serious infection. If you would like to learn more, call Dr. Kania's office in Encinitas/San Diego, CA, at (760) 642-0711.