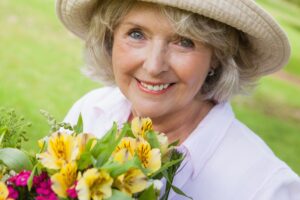 Trouble with your periodontal health can lead to difficulties with tooth loss over time. In fact, gum disease leads all other causes for this issue. At our Encinitas/San Diego, CA periodontal practice, we are here to help patients who worry about the impact that tooth loss might have on their appearance and quality of life. For those who want to avoid this difficulty, we can provide a diagnostic review followed by the appropriate care to help manage your issues with periodontal disease. Individuals who have already lost teeth can come to us to discuss the advantages of implant dentistry when it comes to the restoration of your smile.
Poor Periodontal Health Raises Your Risk For Tooth Loss
Without the right information, you may assume that tooth decay or physical trauma are the reasons why people tend to lose teeth. While these problems can certainly result in tooth loss, gum disease is actually the most likely culprit. As time passes, an infection can lead to worsening damage to the tissues that support your teeth. As they lose stability, they can begin to feel loose. Eventually, they can be so deprived of support that they need to be extracted. Fortunately, you can manage your infection and avoid this problem. After a diagnostic review, we can talk to you about the full impact of your condition, and we can discuss beneficial treatment options.
Planning Treatment To Manage Gum Disease
Through a review of your gums, we can determine what kind of help you need to manage your condition. For people who have more advanced problems, we can recommend more involved services, including treatments that use laser technology to carefully remove unhealthy tissues and bacteria. We can also look into the effectiveness of more holistic methods like ozone therapy and PRP therapy.
Already Affected By Tooth Loss? We Can Help!
Unfortunately, some people may not look into care for their periodontal health until after they need to have a tooth extracted. For individuals who already need help with missing teeth, our practice can offer care through implant dentistry. A dental implant makes it possible for you to support a restoration permanently, and with enough stability to let you bite and chew without difficulty. For those who are not yet good candidates for this care, we can discuss options for care, such as jawbone grafting treatment, to make them ready for treatment.
Talk To Our Encinitas/San Diego, CA Periodontal Practice About Gum Disease And Tooth Loss!
Poor periodontal health can have many consequences, including issues with tooth loss. Fortunately, this is something we can help you avoid, or an issue we can help you address if it has already affected you. To find out more, call Dr. Kania's office in Encinitas/San Diego, CA, at (760) 642-0711.