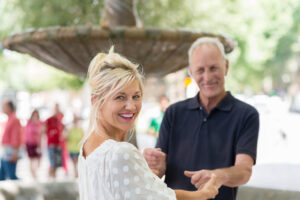 Whether you have issues with gingivitis or already have more serious problems with periodontal disease, you should be aware of the link between poor gum health and tooth loss. Complications from gum disease lead all other issues when it comes to losing teeth as an adult. Your Encinitas/San Diego, CA periodontist is ready to help you deal with this issue. We offer treatments that address the issues caused by poor periodontal health. Our practice can also provide options for treatment through implant dentistry in order to help those who have already lost teeth.

Problems With Poor Gum Health Can Lead To The Loss Of Teeth
One problem with periodontal disease is that the infection does worrying damage to the tissues that support teeth. As that harm builds up, it will leave you with problems where teeth need to be extracted, or fall out on their own. This is why the condition, when not managed, leaves many people with incomplete smiles. We should note that this is just one of many problems associated with periodontal disease. Your condition can also make it harder to manage other health problems, and it can raise your risk for problems as bacteria under your gums travel through your bloodstream.
Making Plans To Restore Your Incomplete Smile
Dental implants are used to permanently hold restorations in place. They are surgically placed into your jawbone, where they occupy the spaces where teeth roots used to be held in position. Because they are made from a biocompatible titanium, your surrounding bone tissues will fuse with it to provide added stability. After you heal, a permanent prosthetic appliance is put in place to close the space left by a lost tooth.
We Can Help You Manage Periodontal Problems
Through the right services, we can help patients manage periodontal disease and avoid complications. One service we can provide is Supportive Periodontal Maintenance, ongoing cleanings that control the spread of bacteria and guard you against complications. You can also discuss services to address more severe problems, including laser treatment to remove infected tissues and fight the bacteria buildup on the roots of teeth.
Talk To Your Encinitas/San Diego, CA Periodontist About Your Concerns About Tooth Loss
Tooth loss is a serious concern for someone who has issues with periodontal disease. When you do not take your condition seriously, you are more likely to experience this issue as tissue damage occurs. Fortunately, you can count on help from your periodontist. Through the right treatments, we can help you manage the condition to prevent this from occurring, and we can provide dental implants to support prosthetic appliances if you already have an incomplete smile. If you would like to find out more, call Dr. Kania's office in Encinitas/San Diego, CA, at (760) 642-0711.