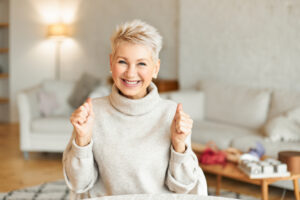 Because periodontal disease raises a person's risk for tooth loss, many who struggle with poor gum health will find themselves in need of prosthetic dental work. At our Encinitas/San Diego, CA periodontal practice, we can discuss the advantages to treating this problem through implant dentistry. The implant itself creates permanent support for a custom restoration, which can make you more comfortable with its presence even as you rely on it to bite and chew. Even if you have issues that prevent you from moving forward with treatment, we can work out a plan to address your health and improve your candidacy.
Are You A Good Candidate For Prosthetic Treatment With Dental Implants?
Many people who want to address tooth loss are able to proceed with treatment that relies on the placement of a dental implant. The procedure calls for minor oral surgery, as the implant itself is placed directly into your jawbone. Once it is set, you will wait to heal before you receive your prosthetic appliance.
While you may be a good candidate for treatment, you may need to address certain issues with your health before you can move forward. We may need to manage active problems with periodontal disease before your procedure can take place. We provide different services to tend to these concerns, including services that rely on laser technology to make care more comfortable. For patients who have let tooth loss go unaddressed for a longer period of time, we can recommend jawbone grafting treatment to make sure your treatment is a success.
What Can You Expect From Your Restored Smile?
On its own and as part of a larger effort to restore your smile after experiencing issues with periodontal disease, the placement and restoration of dental implants can have a welcome effect on your health and appearance. The security that your prosthetic enjoys makes it possible for you to bite and chew without difficulty, which makes you less likely to experience jaw pain or overuse remaining teeth. The presence of the implant will help stimulate your jawbone and preserve its health, and it will also keep neighboring teeth stable.
Talk To Your Encinitas/San Diego, CA Periodontist About Implant Dentistry
Have you recently suffered tooth loss, or finally feel ready to take care of this problem after letting it go unaddressed? If so, our practice can help you by providing treatment to secure a dental implant that can give your replacement tooth lasting stability. Our practice offers many services to those who are trying to deal with the effects of periodontal disease, including those who have significant issues. To find out more about how we can help you, please call Dr. Kania's office in Encinitas/San Diego, CA, at (760) 642-0711.