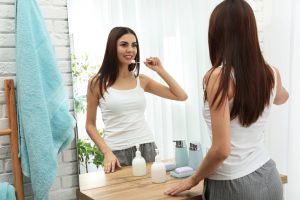 The daily routine you practice to protect your smile should keep you safe against both dental and periodontal problems. For those who have a history of trouble with gingivitis, or ongoing difficulties managing periodontal disease, a "standard" routine may not feel like enough. With Perio Protect, you can directly target harmful microbes as part of your standard regimen. At our Encinitas/San Diego, CA periodontal practice, we can recommend this treatment for patients with different concerns. When appropriate, we also provide important in-office services that we can arrange in order to help you protect your gums.
Are You Worried You Do Not Do Enough To Prevent Or Manage Periodontal Problems?
For those who want to stay safe against periodontal disease, and those who are already trying to manage the condition, daily preventive care will be important. The oral bacteria that gather in our mouths can create more trouble than you may realize. A worsening infection can lead to problems with tissue damage that ultimately results in tooth loss, and it can even make it difficult for you to stay on top of your general health! Brushing and flossing should be staples in your daily routine, and they provide important protection for your gums when you are thorough in your cleanings. With that said, the additional support of Perio Protect can be valuable, especially if you are trying to prevent complications from an active infection.
Including Perio Protect In Your Daily Routine
Perio Protect provides antibacterial agents as well as custom trays that make these agents easier to apply. We can make sure that patients receive kits that are prepared just for them. You will use the treatment to directly address the harmful bacteria present under your gums and on teeth roots. By doing this, you can control an infection and prevent complications, and you can avoid the onset of a more serious infection if you are currently only struggling with gingivitis.
In-Office Services That Help Patients With Their Periodontal Health
We can help patients who want to manage their periodontal health as well as those who are trying to prevent the start of problems. In fact, we offer both scaling and root planing for those with gingivitis and Supportive Periodontal Maintenance for those who wish to stop an infection from causing complications. We are here to help if periodontal disease is already making your health harder to manage. With advanced services, including treatments with laser technology, we can help preserve your health!
Talk To Your Encinitas/San Diego, CA Periodontist About Perio Protect
Through treatment with Perio Protect, we can give you an important extra form of support at home to protect your gums. To find out more, please call Dr. Kania's office in Encinitas/San Diego, CA, at (760) 642-0711.