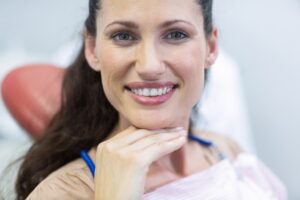 The unfortunate reality of periodontal disease is that it can create persistent problems for you. In time, you can lose teeth as tissues that support them are destroyed. You can also have a more difficult time managing your overall health. The good news is that with the right support, problems can be managed and controlled, so that you are protected against these potentially severe consequences. Our Encinitas/San Diego, CA periodontal office is prepared to help you by offering patient-friendly approaches to periodontal care. With the right procedure and the right tools, we can provide less invasive treatment that provides shorter and easier recovery periods.
Is Your Trouble With Gum Disease Serious Enough To Require In-Office Care?
Gum disease is a problem that will worsen as time passes. Fortunately, the first stage of an infection is reversible. What that means is that the appropriate preventive care will reverse gingivitis and let you regain your periodontal health. The bad news is that when periodontal disease does become an issue, your condition can call for more than just the support of a general dentist. After a diagnostic review of your gums, we can determine what kind of care you need to manage an issue effectively.
Finding The Right Approach To Treating Periodontal Disease
Your diagnostic review will tell us what kind of support is right based on your current condition. We can offer holistic solutions, such as ozone therapy or platelet-rich plasma therapy. If appropriate, we can also recommend laser treatment to directly fight bacteria and remove unhealthy tissues. By using lasers to treat your gums, we can tend to problems in a way that is more conservative and makes recovery easier.
We Can Provide Preventive Services, Too
If a problem with your gums is identified in time, we can recommend more conservative strategies for helping you. Preventive periodontal care will help you avoid the consequences of a serious infection. Scaling and root planing will remove bacteria from the roots of your teeth so that an infection is resolved. We can also recommend Supportive Periodontal Maintenance, an ongoing series of cleanings that will help you maintain your smile and well-being.
Talk To Your Encinitas/San Diego, CA Periodontist About Scheduling Treatment
There are different strategies that our practice can employ when a patient needs our help to control periodontal disease. In addition to preventive services, we can recommend different holistic and conservative services that resolve potentially serious issues with periodontal disease. Remember that timely treatment matters when it comes to preventing the more significant consequences of an infection. We are happy to help you when you start to worry, but we are also here for you if your general dentist advises that you need to see an expert about your gums. If you want to find out more, call Dr. Kania's office in Encinitas/San Diego, CA, at (760) 642-0711.