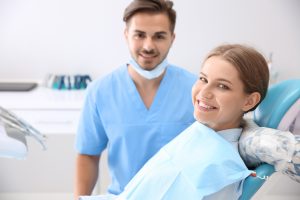 Periodontal bacteria can continue to spread and attack your gum tissues as you go without professional dental care. In time, the accumulation of harmful microbes can lead to something more severe than gingivitis, which can change the way you need to be treated. At our Encinitas/San Diego, CA periodontal practice, we can help you manage an advanced infection by offering different treatment options. If the idea of scheduling oral health care makes you uneasy, or if you are concerned about what a particular treatment might involve, we can help! We use advanced laser tools to make procedures easier, and we can use sedation to help you remain calm and comfortable while you are treated.
The Right Periodontal Treatment Can Be More Comfortable Than You Realize
Hearing that you have issues with periodontal disease, and that you need treatment to prevent complications from causing more severe problems, can be worrying. This can be true for anyone, but it can be particularly true for someone who already has some discomfort with the idea of dental work. There are several efforts we can take to make your time in our office more comfortable. One is that we rely on holistic services, and we can provide treatments with laser tools to make them easier. Another is that dental sedation is available to make your time in treatment easier.
Laser Tools Make Services And Recovery Times Easier
With laser tools, we can carefully tend to your gums in order to remove diseased tissues and fight the buildup of bacteria on the roots of your teeth. Using lasers lets us work on your periodontal tissues with more precision, which minimizes tissue damage. We can also limit any bleeding that occurs during this work, and we can even remove the need for sutures to assist with your recovery process. Because your treatment was more precise, you can have a shorter and easier recovery period.
Anxious About Treatment? Sedation Can Help
For those who need more involved services, or for those who have anxieties around oral health care, we can offer dental sedation. The availability of nitrous oxide or an oral sedative can ensure that a patient feels comfortable while they are cared for while allowing them to remain conscious. Nitrous oxide's effects can wear off in a short time, though an oral sedative can have a longer recovery period that makes it necessary for you to arrange a ride to and from your appointment.
Talk To Your Encinitas/San Diego, CA Periodontal Practice About Treating Gum Disease
Our practice is here to help those who need to do something about periodontal disease, even when they have anxieties about treatment. If you would like to set up an appointment or learn more, call Dr. Kania's office in Encinitas/San Diego, CA, at (760) 642-0711.