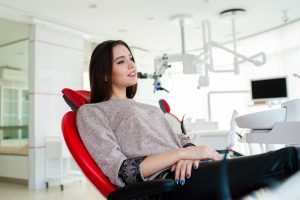 For someone who has anxieties about dental care, it can be hard to commit to even routine oral health services. One problem with avoiding regular oral health services is that problems can form and worsen, leading to complications that need to be addressed. Problems with periodontal disease can affect you in several worrying ways. You are more likely to experience difficulties with tooth loss, and your infection can make it harder to manage other conditions that concern your health. At our Encinitas/San Diego, CA periodontal practice, we can help you manage your discomfort and provide help with periodontal disease. Because we use lasers when performing periodontal care, we can make treatment and recovery easier. To ease tension during treatment, we can offer dental sedation to help you feel calm while your care takes place.
Has Anxiety About Dental Care Kept You From Scheduling Treatments?
Anxiety can keep people away from the dentist's office, which can lead to the unfortunate problem of oral health issues forming and worsening without intervention. Even with good oral hygiene habits, you can overlook the formation of a problem, which can then worsen. When this happens, problems like gum disease can grow serious enough to complicate your overall health. If you are struggling with severe gum disease, you also face risks from tooth loss, as your infection can destroy the tissues that keep teeth securely held in place.
Sedation Can Help You Remain Calm During A Procedure
To make your time in our office more relaxing, we can provide dental sedation while you undergo treatment. Both oral sedatives and nitrous oxide are offered to assist with patient comfort. When these are provided, it can be easier for a person to remain calm while they receive care. We offer a number of services that address the impact of periodontal disease on your life. Because we can make these experiences more comfortable, we can better accommodate those individuals who have resisted making appointments due to feelings of anxiety.
Laser Treatment Helps Improve Your Experience After Treatment
The right treatment approach can do more than just help you remain calm and comfortable during your appointment. One reason we offer periodontal services that rely on laser tools is because these tools make your recovery easier and shorter. Lasers make more precise incisions and make sutures unnecessary, generally making important services more comfortable.
Dr. Kania Can Help You Manage Your Periodontal Health
Our periodontal practice can help you avoid the potentially serious consequences of unmanaged periodontal disease. With our advanced treatment approaches and ability to provide dental sedation, we can help those with dental anxiety receive care without causing unnecessary discomfort. To learn more about our services, and to learn how we can make you more comfortable during your visit, please call Dr. Kania's office in Encinitas/San Diego, CA, at (760) 642-0711.