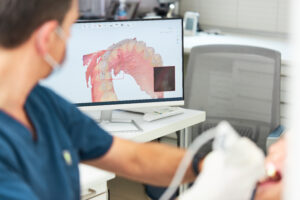 When you develop symptoms of periodontal disease, then you need to seek treatment to avoid complications that could include adult tooth loss. To diagnose the issue and ensure treatment with precision, you need a diagnosis. In today's blog, your Encinitas/San Diego, CA, periodontist talks about our diagnostic imaging!
When to Schedule a Visit
You may be referred to our office by your general dentist, or you may need to schedule a visit when you notice potentially harmful changes to your gums. Soreness, redness, and bleeding are often indicators of gingivitis, or the early stages of periodontal disease. Action now can help manage the issue to prevent worsening symptoms, such as gum recession and even adult tooth loss. When you experience these changes, let us know right away so we can offer a diagnosis with advanced imaging technology, and protect the stability, health, and beauty of your smile!
Our Diagnostic Imaging
Our team will often work alongside your general dentist, and will take a close look at your medical and dental records, as well as your overall health history. We then use digital x-rays to capture detailed and clear pictures of your oral structures and gums, which are visible on a chairside screen right away. No need to bite down on uncomfortable bite wings or wait for development in harsh chemicals. Instead, we can walk you through the diagnosis so you better understand the state of your smile. The technology also uses 90% less radiation! From there, we can assess the cause and extent of your periodontal concerns, and plan treatment with precision and accuracy. These images can also be used to create 3D impressions to plan treatment with prosthetics and more. In some cases, we will work alongside other specialists, including oral surgeries and orthodontics.
What Happens Next?
Once we plan your treatment, we will begin the process of managing your disease to keep your smile healthy and whole. For minor cases, we could discuss holistic options like Ozone Therapy, or possibly Perio Protect and deep cleanings. For more severe cases, we could employ advanced dental lasers as part of our Pinhole Surgical Technique procedures. Our team will be able to improve not only the health and function of your smile, but the esthetics as well.
If you have any questions about how our team treats periodontal issues, or how we diagnose the smile with detailed imaging technology, then contact our team today to learn more.
Talk To Your Encinitas/San Diego, CA Periodontist About Starting Care
Our team wants to help you enjoy a full and healthy smile once again, so you can smile with confidence for years to come. If you would like to find out more about starting treatment for your periodontal concerns, then call Dr. Kania's office in Encinitas/San Diego, CA, at (760) 642-0711.