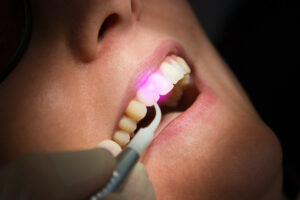 Periodontal disease could lead to discomfort in your smile and without treatment, the risk of adult tooth loss. To help manage the disease and keep your smile whole and beautiful, we could offer assistance with laser dentistry. In today's blog, your Encinitas/San Diego, CA, periodontist talks about managing periodontal disease with the LANAP protocol.
The Signs of Trouble
When should you consider contacting our team for treatment? Be aware of any changes to your gums. If they appear redder than usual, or if they feel sore or bleed easily, this could be signs of serious gingivitis or the early stages of gum disease. Swelling or recession that makes the teeth appear longer could also mean the presence of periodontal disease. Treatment is crucial for managing the disease and preventing the late stage known as periodontitis, which leads to worsening symptoms and even adult tooth loss! Our team can help reverse gingivitis or manage the disease with advanced laser dentistry.
The Benefits of Dental Lasers
The LANAP (laser-assisted new attachment procedure) treatment allows our team to handle more advanced stages of gum disease to protect the health and stability of your smile. The technology doesn't require anesthesia and can be done in one visit. The treated area will heal quickly and the risk of bleeding, infection, and swelling is minimal. The lasers help us trim away diseased tissues and destroy deposits of bacteria and buildup. The area then heals and healthy tissues can attach to the teeth to reduce the depth of periodontal pockets and correct the receded portions of your smile. This helps you avoid the risk of more severe symptoms and the loss of your adult teeth.
Safeguarding Your Smile
You can then take actions to help manage the issue and keep your smile whole and safe. Be sure you check in with us for cleaning visits and any necessary follow-up ones. At home, take time to rush and floss properly, and also cut back on sugary foods and drinks. Avoid tobacco products too! These actions help limit the severity of buildup and fight the onset of tooth decay and more in the process.
If you have any questions about how we use the advanced LANAP system to protect the health and beauty of your gums, then contact our team today to learn more. We're ready to help you enjoy your best smile this summer!
Talk To Your Encinitas/San Diego, CA Periodontist About Managing Gum Disease
Using advanced technology, we can help you maintain a whole and healthy smile! If you would like to find out more about treating your periodontal concerns with dental lasers, call Dr. Kania's office in Encinitas/San Diego, CA, at (760) 642-0711. We want to help you keep your smile whole and healthy.