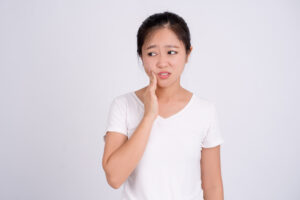 When you suffer from a more advanced case of periodontal disease, you need care to avoid tooth loss and painful symptoms. To offer treatment with precision and accuracy, we could offer LANAP (laser-assisted new attachment procedure) to safeguard your gum health. In today's blog, your Encinitas/San Diego, CA, periodontist talks about the LANAP treatment.
The Dangers of The Disease
Gum disease is a very common issue, and one that impacts an estimated 50% of adults over the age of 30. The disease starts as inflammation. If gingivitis remains untreated, then pockets form at the gum line for disease-causing bacteria to enter, leading to periodontal disease. At this stage, curing it is impossible but care to manage it can help prevent painful symptoms and issues like tooth loss. Our team can use advanced dental lasers to address more severe cases, which makes management with cleanings and other preventive options possible in the years to come. Don't let this disease impact the health, beauty, and stability of your smile, talk to us if you experience sore, red gums that bleed easily, as these are often common warning signs.
The LANAP Procedures
Our team will employ the Periolase MVP-7 Nd:YAG laser to treat issues like periodontal disease. The laser employs a concentrated beam of light and a steady flow of sanitizing water to provide a more focused and precise approach to treating gum disease. There is no end for scalpels and sutures, so surrounding tissues are protected and the healing period is much shorter. The risk of infection, swelling, and infection is much lower, and this can help reduce flare ups of periodontal disease in the future. The laser is used to remove harmful bacteria and diseased tissues, providing less intrusive options for managing the disease and preventing complications like tooth loss.
Protecting Your Gum Health
After your treatment, we could discuss ways to help protect your overall health. For example, you could undergo regular periodontal maintenance with dental cleanings every three to four months. We could also offer preventive Ozone Therapy and medical medications aid in managing the issue. These actions help prevent redness, welling, bleeding, and soreness, and you maintain a stable smile and avoid tooth loss.
If you have any questions about how we help manage the issue with the LANAP system, or if you have questions about preventing the onset of periodontal disease, then contact our team today to learn more.
Talk To Your Encinitas/San Diego, CA Periodontist About Laser-Assisted Treatment
We would like to help you avoid the major complications of periodontal disease, so your smile stays healthy and whole. If you would like to find out more about fighting gum disease, then call Dr. Kania's office in Encinitas/San Diego, CA, at (760) 642-0711.