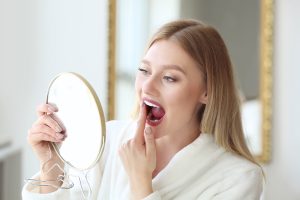 At a routine dental visit, you can receive a timely warning about symptoms of gingivitis, and you can deal with an infection before it causes worrying complications. You should know that you are also able to observe signs of poor periodontal health between appointments. If you grow concerned about the signs of trouble that you observe, know that our Encinitas/San Diego, CA periodontal practice is here to help! Through a diagnostic review, we can see how serious your condition is, and from there we can recommend the appropriate services to protect your smile and health.
Can I Stop Problems With My Gums Before There Are Complications?
While you should not write off the warning signs of gingivitis, it is reassuring to remember that this infection can be managed. Through better oral hygiene and professional preventive services that target periodontal problems, this condition can be reversed so that there is no longer a concern about your gums. With that said, you should be aware that if the problem is not addressed in time, periodontal disease can affect you. This is a more significant condition, one that can require more advanced services to control.
Discussing Preventive Services With Your Periodontist
Through preventive care, we can help you manage problems with your gums and avoid complications. By performing scaling and root planings, we can reverse gingivitis by fighting the accumulation of bacteria present under your gum tissues. For those who are already trying to control a more serious infection, we can begin supportive periodontal maintenance to ensure the problem does not cause unwelcome complications.
We Can Help You Manage Potentially Serious Problems With Your Gums
There are different treatment options available to those who are in need of help managing more serious problems. When appropriate, we can actually recommend that you undergo laser periodontal treatments to both fight bacteria and remove diseased gums. You can also explore other services, such as ozone therapy and platelet rich plasma therapy, which can offer up more holistic solutions to problems with your health.
Talk To Dr. Kania About The Signs Of Gum Disease You Observe
Through your own observation, it is possible to identify signs of a periodontal infection. If it is not dealt with in time, this problem can impact you in several worrying ways, including by causing you to suffer tooth loss! At our Encinitas/San Diego, CA periodontal practice, we can offer guidance on how a problem can be managed. If it is too late to prevent periodontal disease, we can make sure you stay safe against the complications that this condition can cause. To find out more about how we can take care of you, call Dr. Kania's office in Encinitas/San Diego, CA, at (760) 642-0711.