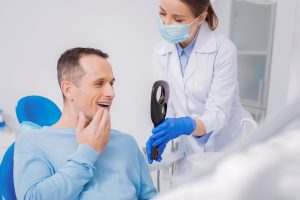 How should you approach treatment for gum disease? If you have to contend with gingivitis, the initial stage of an infection, preventive care can effectively reverse your condition and give you healthy tissues again. For those who have more serious infections, more involved treatments are going to be necessary to prevent complications. At our Encinitas/San Diego, CA periodontal practice, we help people with different degrees of infections to worry over. Those who have more advanced problems can learn about more involved services that protect them against periodontal, dental, and general health concerns associated with gum disease.
Gum Disease Grows Worse Over Time Without Proper Management
Gingivitis, the first stage of a periodontal infection, affects many people. Fortunately, it is a problem that is often addressed before complications need to be addressed. However, if it is not caught and treated in time, a problem that you develop will grow more severe, making it harder to address the bacteria that are attacking your tissues. When this happens, timely treatment will be needed to control the infection and prevent potentially severe problems, including trouble with tooth loss and your general health!
Performing A Diagnostic Review Of Your Periodontal Tissues
With diagnostic imaging technology, we can evaluate your periodontal health and determine what kind of help you might benefit from at our practice. If there is still time to prevent further issues, we can provide a scaling and root planing to fight bacteria buildup. Someone with a more severe infection can learn about different options for care. This includes Supportive Periodontal Maintenance, an ongoing cleaning that reduces your risk for complications and effectively keeps your problems controlled.
We Provide Different Solutions For Different Degrees Of Periodontal Disease
For patients who have problems with periodontal disease, we offer different solutions. To directly fight bacteria buildup and encourage the growth of healthy tissues, we can perform laser periodontal treatments. We can also discuss holistic treatment options to address different effects of an infection. One option is to use ozone therapy to deal with harmful microbes without disrupting your mouth's natural ecosystem. Through PRP therapy, we can encourage tissue recovery and growth by using platelet-rich plasma.
Talk To Your Encinitas/San Diego, CA Periodontist About Your Gum Disease Concerns
It is important that you understand what you are up against when it comes to periodontal disease. The right evaluation and feedback will help you understand what kind of care you require, and what threats you face without the right support. After your review, our practice can provide information on the different services that are available to you to help! To find out more about how we can help you, please call Dr. Kania's office in Encinitas/San Diego, CA, at (760) 642-0711.