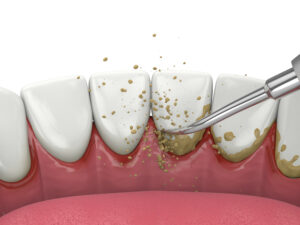 When possible, we want to help our patients avoid the onset of periodontal disease, and avoid the need for treatment for the disease. Which is why we offer an array of preventive treatments to keep your gingival tissues strong. In today's blog, your Encinitas/San Diego, CA, periodontist talks about our preventive treatment options.
The Causes and Common Symptoms
Periodontal disease develops when the gums become inflamed, also known as gingivitis. This could be caused by poor oral hygiene, which creates plaque that irritates the gum tissues. Other factors include a diet high in sugar and starch, lack of brushing and flossing, infrequent dental cleanings, and a family history of the disease. Inflammatory illnesses and the use of certain medications could be factors too. Symptoms include redness in the gums, soreness, bleeding, and receding tissues. When one or more of these develop, then let us know right away. Without treatment, you could eventually develop periodontitis, a stage of the disease linked to adult tooth loss!
SPT
Supportive Periodontal Maintenance (SPT) is a treatment used to manage or prevent periodontal disease by preventing attachment loss between your teeth and gums. The procedure is a preventive one that we could offer every three months, and will take the place of traditional dental cleaning. We will remove the buildup of plaque and tartar from between your teeth and from the surfaces of them. This can help reverse gingivitis, and protect your smile from worsening gum health.
Scaling and Root Planing
Our team also offers a deep cleaning, known as a scaling and root planing, to remove bacterial deposits from not only the surfaces of your teeth, but form the roots and underneath your gingival tissues. We smooth the teeth to remove the bacteria and make it difficult for further deposits to occur. The procedure could be done in one visit, or require up to four, depending on the severity of the issue. We will numb your smile beforehand to keep you comfortable as well.
Ozone Therapy
Our team could also provide Ozone Therapy, in which we expose your smile to oxygen to sterilize and destroy harmful oral bacteria and protect the smile from disease. The process is a simple one and can be done in one visit, and helps further protect your smile.
If you have any questions about how we protect your gum health, then contact our team today to learn more. We want to help you enjoy a full smile for years to come!
Talk To Your Encinitas/San Diego, CA Periodontist About Protecting Periodontal Health
Our team wants to take steps to help you avoid the onset of periodontal disease. If you would like to learn more about our preventive services, then call Dr. Kania's office in Encinitas/San Diego, CA, at (760) 642-0711.