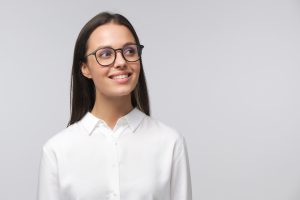 If you do not respond to the early signs of gum disease, your infection can cause more trouble than you may expect. There are some serious consequences, including tooth loss and difficulty managing your general health, that you should know about. While gum line recession is less serious than these issues, it can have a serious impact on your appearance, and it makes you more vulnerable to future problems. Our Encinitas/San Diego, CA periodontal practice is here to help those who struggle with this issue. Because we have access to laser technology, we can provide a less invasive gum grafting procedure, one that does not require sutures and offers a shorter recovery period!
Is Gum Line Recession Affecting You?
The visible impact of gum line recession may become difficult to ignore, particularly when it worsens over time. The movement of tissues exposes portions of your teeth that are more sensitive, and it can make your smile look asymmetrical. Teeth that become exposed can look out of place because they appear awkward, or because they look too long to feel right for your smile.
Gum line recession causes more than just cosmetic concerns. While it can stem from issues other than periodontal disease, it makes future problems with your gum health more likely. It also makes you more likely to have dental problems or experience sensitivity when exposed to hotter or colder items.
The Pinhole Gum Grafting Procedure
By using the Pinhole Surgical Technique, we can carefully lift tissues into the right positions and restore your gum line. This approach removes the need for suturing, and it can lead to an easier – and shorter – recovery period. What this ultimately means is that you can resolve a problem that affects your smile and well-being, and you can expect to see the benefits of this treatment in less time!
Other Periodontal Treatments That Use Lasers
Laser tools help us provide better patient experiences when performing different procedures. For example, we can deal with active periodontal disease through laser treatment that removes bacteria and unhealthy tissues. This encourages natural healing that will regrow tissues that are not affected by periodontal disease. We can also provide laser jawbone grafting procedures at our practice. This helps those individuals who need help qualifying for dental implant placement.
Discuss Treatment For Your Receding Gum Line At Our Encinitas/San Diego, CA Periodontal Practice
Through treatment for your receding gum line, we can improve the quality of your smile and also help you avoid problems with your dental and periodontal health. Dr. Kania relies on laser tools to carefully resolve this problem. This approach makes the procedure itself easier, and it also means you will enjoy a shorter and more comfortable recovery! To find out more, or to learn about any other services we provide, call Dr. Kania's office in Encinitas/San Diego, CA, at (760) 642-0711.