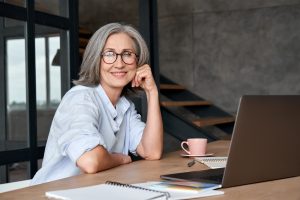 When periodontal disease becomes an issue, it can cause health difficulties as well as cosmetic concerns. As you work to maintain your gum health, you can notice an unwelcome physical change in the form of a receding gum line. This problem leads to problems with smile asymmetry, and it can make certain teeth look awkwardly long or uneven. This change can also affect you physically. Among other concerns, it can lead to an increase in sensitivity. Our Encinitas/San Diego, CA periodontist provides gum grafting treatment that minimizes tissue manipulation and removes the need for suturing. Our Pinhole Gum Grafts are performed using periodontal lasers that lead to lower infection risks, easier healing periods, and less bleeding during treatment!
Gum Recession Is Often A Consequence Of Periodontal Disease
There are many consequences of gum disease that you will have to be wary of if you do not address gingivitis in time. Gum line recession is one of many concerns about your appearance brought on by an advanced infection. In addition to this issue, you can experience a higher risk for tooth loss, or observe trouble with swollen or discolored tissues. We should note that some people experience gum line recession for reasons that are not infection-related, but that this problem can make future periodontal health issues harder to avoid.
Using The Pinhole Surgical Technique To Restore Your Gum Line
Through the Pinhole Surgical Technique, we can carefully manipulate your tissues into place without the kind of cutting and suturing of tissues people may expect from their procedure. By moving tissues in this way, we lower your risk for infection, make changes easier, and make healing easier! With a series of small, pin-like holes, we can change the positions of tissues so that they are appropriately located again, leading to positive changes in your smile and well-being.
Discussing Other Services That Address The Impact Of Periodontal Disease
When periodontal disease is not addressed, the consequences can affect your smile and your general health in ways that may alarm you. To combat this issue properly, we can recommend different services, including other treatments that rely on periodontal lasers. For example, we can use our LANAP periodontal laser to remove infected tissues and directly fight bacteria. We can also offer ongoing preventive services to fight the accumulation of bacteria below your gum line.
Talk To Your Encinitas/San Diego, CA Periodontist About Gum Grafts
Through advanced treatments that rely on laser tools, we can carefully restore your gum line and help protect you against the potentially serious effects of gum disease. To find out more about our practice and services, or to discuss an appointment, please call Dr. Kania's office in Encinitas/San Diego, CA, at (760) 642-0711.