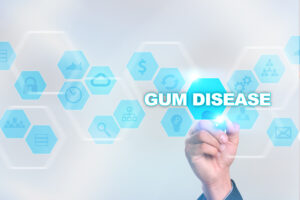 Periodontal disease can occur in adulthood, and in fact half of those 30 and older suffer from some stage of the disease. Without treatment to manage this widespread concern, you risk the loss of your natural teeth. But what causes the disease, and how can you protect your smile? In today's blog, your Encinitas/San Diego, CA, periodontist talks about the impact of periodontal disease.
The Causes of the Issue
How does a disease like this develop? The problem starts with inflammation, also known as gingivitis. The gums could be inflamed due to tobacco use, or plaque buildup brought on by lack of proper brushing and flossing, combined with a diet high in sugar and starch. A family history of periodontal disease could be a factor too, as could the presence of inflammatory illnesses or the use of certain medications. Over time, the inflammation grows in severity until the tissues pull away from the teeth and form pockets at the gum line. When disease-causing bacteria enter these pockets, this leads to periodontal concerns.
Painful Symptoms and Tooth Loss
You may notice changes to your smile, such as red or sore gums, bleeding, or even receding tissues. When these symptoms begin to arise, let us know right away. Our team will conduct a detailed examination to identify the cause and extent of your inflammation, so we can choose the most appropriate treatment option to manage the issue. We want to prevent the advanced stage, known as periodontitis, which could cause adult tooth loss. With the right steps, you can keep your smile healthy and whole.
Prevention
Our team could offer preventive actions to help safeguard your smile. A deep cleaning can remove plaque and tartar from the teeth and roots to reverse gingivitis and help protect your smile. Likewise, preventive options like ozone therapy and Supportive Periodontal Maintenance could help prevent the onset of disease, or make it manageable in the earliest stages.
Management
Our team could also help if you have a more pronounced case of periodontal disease. With the Pinhole Surgical Technique, we could offer an alternative to traditional gum grafts. We also have advanced dental laser technology to remove diseased tissues and allow us to manage it with simple cleanings every three to four months moving forward.
If you have any questions about how we prevent or manage gum disease to keep your smile strong and healthy, then contact our team today to learn more.
Talk To Your Encinitas/San Diego, CA Periodontist About Periodontal Concerns
Our team is ready to help you maintain optimal gum health for years to come! If you would like to find out more, call Dr. Kania's office in Encinitas/San Diego, CA, at (760) 642-0711.