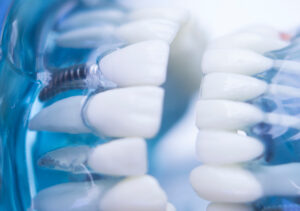 As periodontists, we not only treat periodontal disease to prevent tooth loss, but we can address missing teeth by placing one or more dental implants. These not only look natural, but help protect and preserve your jawbone integrity. In today's blog, your Encinitas/San Diego, CA, periodontist talks about how dental implants help your smile.
The Impact of Tooth Loss
Often, the advanced stage of gum disease, known as periodontitis, could lead to tooth loss in adults. The resulting gap then alters how we eat and speak, and the body's response of suspending the flow of calcium and phosphorus could mean a break own in the jaw. Soon, you could suffer further tooth loss and even a prematurely-aged appeared. But by addressing your missing teeth with dental implants, you can preserve your jaw, fill these gaps, and offer a tooth replacement that lasts far longer than traditional bridges or removable dentures. When you suffer from tooth loss, let us know right away so we can start the placement process.
Preparing Your Smile with Periodontal Treatment
First, we will carefully examine your smile with detailed digital x-rays and intraoral camera images, so we can address the cause and extent of your tooth loss. We also assess the strength of your jawbone. Our team can create a treatment plan to address your underlying periodontal concerns, bringing the disease into a manageable state that doesn't threaten implant failure. We can also see if your jawbone benefits from procedures like grafting to strengthen it and make it ready to receive dental implants. Once your smile is ready, we will start addressing the gaps with durable and long-lasting dental implants.
Placing and Restoring Your New Teeth
The implant portion is made from biocompatible titanium, and will be accepted by the body as natural root structure, which secures them for decades to come, possibly a lifetime. We will guide these into place to ensure they can stimulate new jawbone growth and support teeth that can handle daily bite forces. Once the placement area heals and the new roots bond with the jaw, we will add an abutment that secure a crown or a portion of a prosthetic, so we can address minor or even severe cases of tooth loss.
If you have any questions about tackling your missing teeth with dental implants, then contact our team today to learn more. A full smile and healthy gums are possible, so don't delay, give us a call soon!
Talk To Your Encinitas/San Diego, CA Periodontist About Tooth Replacement
We want to help you enjoy a strong and full smile again. If you would like to learn more about replacing missing teeth, then call Dr. Kania's office in Encinitas/San Diego, CA, at (760) 642-0711.