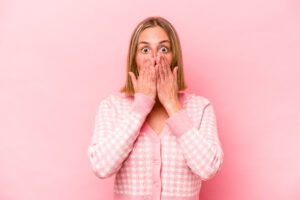 Hearing that you need to see a specialist about your gum health can be stressful. Whether you generally feel uneasy about smile care or feel nervous about visiting a specialist for the first time, this negative emotion can make it harder to commit to booking an appointment. What you should know is that your Encinitas/San Diego, CA periodontist can make your experience a positive one. From the digital diagnostic reviews we provide through our different patient-friendly services, we can make your comfort a priority. For those who need extra help remaining comfortable in the dentist's chair, we do provide the option to receive sedation during a procedure.
Are You Nervous About Starting Treatment For Periodontal Disease?
Starting treatment for periodontal disease can protect you in important ways. When an infection is not being dealt with properly, there are complications that can threaten your smile as well as your general health. Tissue damage from your infection can eventually rob teeth of support and make extractions necessary. If nothing is being done about the accumulation of bacteria on your roots, you can experience new health concerns as those microbes move to different areas. In other words, letting your unease about treatment keep you out of the office can have more consequences than you anticipate!
Laser Tools Can Make Services More Precise And Comfortable
The right technology can provide a better experience for you in the dentist's chair. Laser tools provide greater precision and comfort during an appointment. Because they are able to work more carefully, we can make treatment to fight an infection easier on you. Beyond just offering more precise care, these tools limit bleeding and reduce infection risks, making your recovery time easier and more comfortable.
Using Sedation To Make Your Time In The Dentist's Chair Easier
If you are someone who finds it hard to arrange oral health care of any kind, the idea of seeing a specialist can feel truly daunting. Fortunately, there is something that we can do to help you manage discomfort. Sedation dentistry provides different options for care that will help you stay relaxed throughout treatment. The care available to you includes nitrous oxide, which can help you stay relaxed but conscious, and whose effects will wear off shortly after it is no longer applied.
Talk To Your Encinitas/San Diego, CA Periodontal Practice About Starting Treatment!
Starting periodontal care can protect you against potentially serious issues in time. If you feel uneasy about making an appointment, you should know that the right services can provide positive results while being surprisingly comfortable. If you would like to find out more about our practice and what we can do for you, please call Dr. Kania's office in Encinitas/San Diego, CA, at (760) 642-0711.