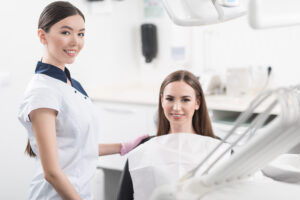 Are you someone who needs to meet with a periodontist over your issues with gum health? Recurring issues with gingivitis, or warnings from your dentist about an advanced infection, can make an appointment beneficial. There are several ways in which our Encinitas/San Diego, CA periodontal practice can support you. In addition to providing thorough reviews to assess the state of your gums, we can discuss treatments to reverse gingivitis or tend to the harm done by a more severe condition. We can also provide support to help you take care of your gums at home, including by providing Perio Protect so that you can better address periodontal bacteria between appointments.
Do You Need Extra Help Managing Your Periodontal Health?
For people with a history of periodontal health issues, or for those who want to stop a potentially serious infection from causing difficulties like tooth loss and other problems, we can help. Dr. Kania is able to provide different services to patients based on their needs. Whether you are trying to avoid lasting complications from an infection or hope to address the more significant effects of periodontal disease, we can work with you on providing lasting solutions.
An Evaluation Can Help Us Assess How Severe Your Infection Has Become
By performing a diagnostic review of your gums, we can evaluate what state they are in, and from there we are able to discuss what in-office services might be right for you. For those who have an infection caught in time, preventive services can help defend you against the more serious consequences of poor periodontal health. If you need more advanced support, we can discuss options such as treatment with a soft tissue laser to clear away bacteria or holistic services that encourage growth and recovery. Our office is even able to help you if your larger plans for dealing with the effects of gum disease include work to restore an incomplete smile, as we can help prepare you for a successful dental implant placement.
Support For Your Periodontal Health At Home
With Perio Protect provided by your periodontist, you gain the ability to more effectively fight problems with periodontal bacteria while at home! Your kit will include helpful trays as well as antimicrobial agents that are able to directly tend to problems with harmful microbes.
Talk To Your Encinitas/San Diego, CA Periodontist About Managing Gum Disease
By effectively managing gum disease, you protect yourself from potentially serious threats to your smile and general well-being. Our practice is happy to work with you; we can assess how severe your infection might be, and we can talk about next steps to take on your infection. If you would like to find out more about how we can help you, please call Dr. Kania's office in Encinitas/San Diego, CA, at (760) 642-0711.