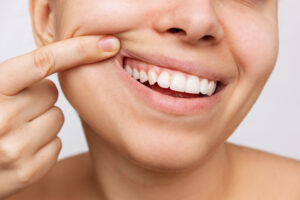 When you have high risk factors for periodontal disease and want to avoid the risk of tooth loss, we can offer unique preventive treatments. With special trays and medication, you can safeguard your smile from home! In today's blog, your Encinitas/San Diego, CA, periodontist looks at the benefits of Perio Protect.
When to Consider Treatment
Your gums frame your smile and help keep your teeth firmly in place. Which is why periodontal disease poses such a threat to your oral health. The disease could lead to painful symptoms and changes to your smile, such as sore, red gums that bleed, or even receding tissues that make teeth appear long. In the advanced state, the disease could lead to tooth loss. When you experience potential changes to your gingival tissues, let us know right away. If we can offer care in the early stages, we can prevent the disease or manage it to prevent the late stages. We can often do this with our Perio Protect trays!
The Perio Protect System
Our team will begin by taking detailed digital images of your smile. Using these images and measurements, our team can then design and craft a set of custom trays. They will fit comfortably over your teeth and offer a unique way to deliver a special anti-bacterial agent directly to the gums. The treatment process involves filling the trays with this antibacterial gel and then wearing them for a set amount of time. The system prevents harmful disease-causing bacteria from growing in severity and forming pockets in the gum line or within pockets at the gum line.
Other Preventive Options
You can also help with other good oral hygiene habits. For example, you should brush for at least two minutes when you wake up and then once again before going to bed. Each session should use a fluoride toothpaste too. You also need to floss thoroughly before you brush for the second time, as this removes what is trapped between teeth or along the gum line. These actions, combined with our Perio Protect trays, can help you avoid periodontal disease and keep your smile healthy and whole.
If you have any questions about how our team will prevent and manage issues like periodontal disease to keep your smile strong and whole, or about our other treatments, such as advanced laser dentistry, then contact our team today to learn more. We want to help you enjoy optimal periodontal health!
Talk To Your Encinitas/San Diego, CA Periodontist About Our Preventive Treatments
You can help manage and protect your periodontal health from home! If you would like to find out more about our preventive and holistic treatment options, call Dr. Kania's office in Encinitas/San Diego, CA, at (760) 642-0711.