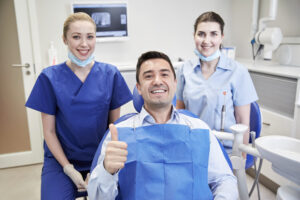 General dental visits can alert you to problems with your gums, but a routine appointment may have limited information when you need to discuss a potentially serious infection. Over time, a periodontal infection grows more severe as bacteria on the roots of teeth cause problems for surrounding tissues. In cases where there are concerns that your infection has progressed, it can be important to have your health evaluated by a periodontal specialist. Our Encinitas/San Diego, CA periodontist's office can provide important details about the current state of your gums. Based on our review, we can determine what kind of preventive care might be appropriate for stopping further complications, or we can discuss more advanced services.
What Can A Periodontist Do To Help Me Manage My Health?
There are different actions that a periodontist can take in order to restore your health and appearance. The first step in care will be to assess the current state of your gums. The first stage of infection, gingivitis, can be reversed through a detailed cleaning and good oral hygiene. For more advanced problems, we can discuss different courses of action, including ongoing preventive care to keep complications from causing tooth loss or general health problems.
We Can Offer Preventive Services And More Involved Care
Your diagnostic review will determine just how severe your infection is; from these details, we can determine what procedure is right for you.  A scaling and root planing can provide preventive care that stops an infection from becoming more significant. With this approach, or through the start of supportive periodontal maintenance, we can help you avoid the significant consequences of poor gum health. In cases where patients already have more significant problems with tissue damage and gumline recession, we can step in with services intended to improve periodontal health.
Our use of laser technology can make these services more comfortable for you, and they can deliver results with more accuracy and easier recovery times. Laser treatment can effectively remove bacteria and even clear away infected tissues to encourage your body to heal and grow healthy gums. We can also use laser tools when performing gum grafting work to restore your gumline.
Talk To Your Encinitas/San Diego, CA Periodontist About Scheduling Your First Visit
The initial visit you make to a periodontist is an important one. During this time, we can perform a careful study of your soft tissues to assess just how significant your problems with periodontal disease are and recommend treatment. Whether you need to start preventive appointments or require more involved support, we can make your experience with managing gum disease a positive one! For more information or to set your visit, please call Dr. Kania's office in Encinitas/San Diego, CA, at (760) 642-0711.