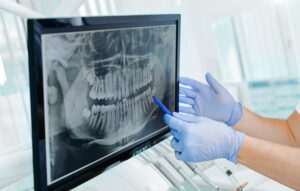 When you see our team for treatment, we want to offer precision and accuracy when we manage your periodontal issues, so you enjoy a strong and whole smile. To make a diagnosis, our team offers advanced digital imaging. In today's blog, your Encinitas/San Diego, CA, periodontist talks about how we diagnose your periodontal issues with digital x-rays.
When You Need to Schedule a Visit
You may find yourself referred to us by your general dentist, but you should consider scheduling an appointment when you begin to experience the early warning signs of periodontal disease, such as sore gums, redness in your gingival tissues, or bleeding when you brush and floss. Receding tissues are also a cause for concern. Periodontal disease, if left untreated, could lead to adult tooth loss. But with treatment, you can maintain a full and beautiful smile! Which is why you should see us at the first sign of trouble.
Digital X-Rays
Our team uses digital x-rays to carefully examine your smile, as these provide detailed images of your smile as a whole, so we can assess the severity of the disease, as well as any changes to your bone structure and teeth. The technology uses 90% less radiation, and we can provide images instantly chairside. No need to wait for development, and no need for uncomfortable bite wings either. Our team can use these high-definition images to make a diagnosis with precision and accuracy, so we can plan treatment to prevent or manage the disease, keeping your smile strong and healthy.
What Happens Next?
If you have gingivitis or the early stages of the disease, we could use holistic options to manage the issue, such as Ozone Therapy, antibiotics, or Supportive Periodontal Maintenance. If you have a more advanced case, we could use dental lasers to trim away diseased tissues, so healthy ones can reattach to the teeth and the disease can be more manageable with routine preventive care moving forward. For receding gums, we can use lasers and the Pinhole Surgical Technique to cover the exposed portions of roots and improve smile beauty, all with a conservative and comfortable approach.
If you have any questions about how our team diagnoses and treats concerns like periodontal disease, then contact our team today to learn more. We want to help you enjoy optimal oral health for years to come, and to smile with confidence.
Speak With Your Encinitas/San Diego, CA Periodontist About Digital X-Rays
Our team wants to help you enjoy optimal oral health and avoid the complications of untreated gum disease. If you would like to find out more about the diagnostic process, then please call Dr. Kania's laser periodontal office in Encinitas/San Diego, CA, at (760) 642-0711.