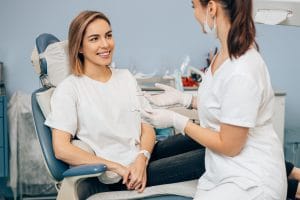 How serious is your periodontal infection? If you are only familiar with gingivitis, you may be surprised at just how harmful gum disease can become if it is not managed in time. Your initial infection can worsen if it is not properly addressed, at which point you can find yourself at risk for tissue damage, tooth loss, and even problems with your general health. At our Encinitas/San Diego, CA periodontal practice, we can help you understand how serious your periodontal troubles are before talking with you about your treatment options. We rely on modern diagnostic tools, including digital x-ray technology, that enables us to closely study your gums and oral structures for signs of periodontal disease. With the right information gathered, we can talk to you about our periodontal services that can help you fight bacteria and restore healthy tissues.
Arranging A Review Of Your Periodontal Health
Your dentist may recommend a second opinion appointment with a periodontal specialist if you appear to have periodontal disease. When gingivitis is not managed in time, bacteria can become more difficult to manage, and they can begin to damage the tissues that support your teeth. A review can help us determine if preventive periodontal care might be able to reverse your infection, or if you might need more involved care to protect your smile and periodontal health.
What Can A Diagnostic Review Tell Me About My Gums?
With our diagnostic review, we can use records of your oral and general health and advanced images of your oral structure to understand what is happening with your gums. The digital x-ray technology we use gives us the ability to take helpful images of your oral structures that we can analyze for signs of periodontal disease. With those images, we can show you what is happening with your dental and periodontal health before talking with you about what treatment approach might be beneficial.
Planning Treatment After Your Review
If your periodontal infection has not progressed past the stage of gingivitis, a preventive periodontal treatment may be enough to stop the condition and return your gums to good health. If the problem is more serious than this, we can talk to you about procedures that help in valuable ways. We can help you regrow healthy tissues through laser periodontal treatment that involves the careful trimming of infected gums. We can also use ozone therapy to directly attack the unwelcome bacteria beneath your gum line, while preserving healthy microbes that actually benefit you.
Schedule A Periodontal Evaluation With Dr. Kania
At your periodontal evaluation with Dr. Kania in Encinitas/San Diego, CA, you can receive important information about your health, and learn about treatments that can help you fight gum disease. To find out more, or to schedule your visit with Dr. Kania, please call our periodontal practice today at (760) 642-0711.