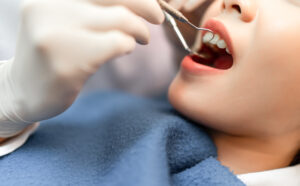 When you have periodontal disease, you need care to manage it and prevent the late stage linked to adult tooth loss. To make a diagnosis with precision and plan your treatment, our team will employ diagnostic imaging technology. In today's blog, your Encinitas, CA, periodontist talks about when to schedule a visit, and how we offer a diagnosis.
When to Seek Treatment
In the advanced stages, periodontal disease can lead to adult tooth loss and major discomfort. In the early stages, you may simply notice your gums appear redder than usually or feel sore. Bleeding when you brush and floss could also be a sign you need treatment. In the inflammation stages, known as gingivitis, we can reverse it with a scaling and root planing. But for the disease, we can offer a variety of treatments to manage it, even if in the severe stages. But to find out if you need treatment and what the best options are for your periodontal health, we will conduct an examination with diagnostic imaging technology.
Digital X-Rays
Digital x-rays provide incredibly detailed images, so our team can create a personalized treatment plan to improve your smile and protect it from the impact of untreated disease. With the digital option, we use a fraction of the radiation when compared to traditional x-rays, 90% less in some cases. There is also no need for a lengthy development in harsh chemicals. Instead, the images are available instantly chairside, which is good for the environment and saves you time.
The images can be enlarged as needed without the risk of lost definition, so our diageneses will be very detailed and accurate. No need for uncomfortable bite wings either! We could also gather digital images to create detailed computer impressions, ensuring we can create appliances and other options with precision.
What Happens Next?
Once we conduct your diagnosis, we can plan the next steps for treatment. For some, these could be a minor scaling and root planing, while others may need gum grafts to correct the impacts of the disease. But with laser dentistry, we can offer oral surgery that is comfortable and minimally invasive, often requiring little to no anesthesia.
If you have any questions about our approach to diagnostic imaging, or about treating gingivitis or gum disease, then contact our team today to learn more. We look forward to helping you enjoy optimal oral health and a full smile!
Talk To Your Encinitas/San Diego, CA Periodontist About Diagnostic Imaging
We want to help provide treatment with precision using diagnostic imaging technology. If you would like to find out more about how we diagnose your issues and plan treatment, call Dr. Kania's office in Encinitas/San Diego, CA, at (760) 642-0711.