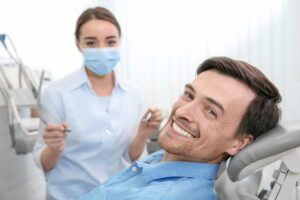 The right information regarding your periodontal health can be vital to successfully managing an issue that threatens your smile and well-being. People are not always aware of just how harmful an infection can be, and what can happen if it is not managed properly. Trouble with gum disease can lead to serious tissue damage as well as heightened risks for your general health, tooth loss, and notable gum recession. At our Encinitas/San Diego, CA periodontal practice, we can provide a diagnostic review using advanced imaging technology. With the information gathered, we can discuss what treatment options will help you manage problems and protect yourself against potentially serious complications.
We Use Advanced Imaging Tools To Evaluate Your Periodontal Health
Thanks to our advanced diagnostic imaging technology, we can make information regarding gum disease and its effects on your smile clear. Having this information helps to both clarity the threat of this condition and explain what services are available to help. For some, the feedback will point to the need for continued preventive services to stop more significant harm from occurring. For those who have more serious issues to contend with, we can determine what service or services might be right for you, and if necessary we can discuss the inclusion of additional care from specialists.
Different Services That Address Gum Disease
People who are dealing with different stages of periodontal disease can come to our practice in the hopes of having an infection managed. The good news is that problems can be caught in time to use preventive periodontal services to stop problems from becoming significant. Through scaling and root planing, we can tend to poor gum health by removing bacteria from teeth roots and polishing their surfaces to make the future buildup of microbes less likely to occur. Patients who have had more struggles with periodontal problems can begin care through supportive periodontal maintenance. These sessions, which can take place every three months, serve as an effective replacement for standard dental cleanings.
There are times when a diagnostic review will reveal the need for more involved services. By using laser technology to address active problems with poor gum health, we can make advanced care more comfortable as well as more precise. We also have holistic treatment options we can recommend. Those options include a service that uses oxygen to fight harmful bacteria as well as PRP therapy to stimulate natural tissue growth and recovery processes.
Talk To Your Encinitas/San Diego, CA Periodontist About Diagnosing Periodontal Problems
Through a detailed diagnostic review, we can determine what issues you face due to periodontal disease, and from there we can recommend treatment to stop your condition from causing harm to your smile and overall health. For more information, call Dr. Kania's office in Encinitas/San Diego, CA, at (760) 642-0711.