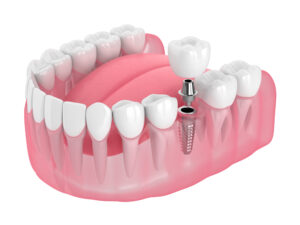 When we see patients with tooth loss, our team can secure one or more replacement teeth with our dental implants. These not only look and function like natural teeth, but they can last far longer than traditional bridges or removable dentures. In today's blog, your Encinitas/San Diego, CA, periodontist talks about implant dentistry.
The Factors Behind Your Missing Teeth
Teeth could be lost due to an untreated cavity or severe infection, or even as a result of an injury or accident. But the most common factor is related to your gum health. Periodontitis, the advanced stage of gum disease, destroys the tissues connecting your teeth and gums, leading to tooth loss. Our team can replace what is lost with lifelike and long-lasting dental implants. To begin, we will examine your smile with advanced imaging technology to assess the cause of your tooth loss. We may need to treat underlying periodontal concerns to prevent implant failure. Using advanced treatment options, including laser dentistry, we can bring your disease to a manageable state, so your smile is ready for new teeth.
Preparing Your Smile
Once we examine your smile and determine if your jaw is healthy and strong enough to support dental implants, we will use the digital x-ray images to plan the placement process. We will select the best angle and position to insert these posts. Made from biocompatible titanium, they will bond with the jaw, preventing the loss of jawbone mass and density that typically follows tooth loss. As a result, they can last far longer than traditional bridges or dentures, sometimes for decades or even a lifetime.
Securing Your New Teeth
Once the posts are inserted into the jaw, we will move forward with connecting the part people see when you smile, your new teeth. We could do this in the same visit, or we may need to wait for the jaw to heal following placement. Our team will attach an abutment to the teeth that extends above the gum line. We then connect a crown for an individual dental implant, or a portion of a bridge or denture if you have multiple posts in your smile. You now have a smile that looks and functions like natural teeth, so you can smile without hesitation and enjoy your favorite meals. If you have any questions about how we treat tooth loss with implant dentistry, or about improving your overall gum health, then contact our team today to learn more. A full smile is possible!
Talk To Your Encinitas/San Diego, CA Periodontist About Tooth Loss
You don't have to live with gaps in your smile! If you would like to find out more about addressing your missing teeth, call Dr. Kania's office in Encinitas/San Diego, CA, at (760) 642-0711.