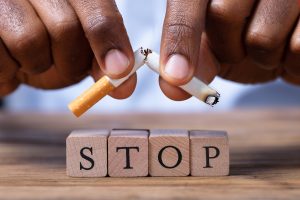 You need to look beyond brushing and flossing if you want to examine all of your habits that can affect your oral health. Other daily behaviors, such as tobacco use, also influence your risk for dental and periodontal problems. While you may recognize that this habit is a potential threat to your general health, and that it can cause embarrassing teeth stains, you should know that tobacco use can also make you more vulnerable to gum disease. If you do experience issues with this condition, it can lead to problems with your overall well-being and raise your risk for tooth loss! Our Encinitas/San Diego, CA periodontal practice can help you understand your risks when it comes to infections, and we can help you identify changes in your life that can better protect your periodontal tissues.
Your Smoking Habit Can Make You More Vulnerable To Gum Disease
If you use tobacco products, you can have a more difficult time preventing problems with your gums. Of course, this is just one of several health issues that tobacco use can cause. Smoking and other habits can make you more likely to develop embarrassing teeth stains, and they put you at greater risk for lung problems, cancers, and more. For someone struggling with periodontal disease, dropping the habit can have important benefits.
Watching For The Warning Signs Of Poor Periodontal Health
While you should rely on your regular dental visits for updates about your oral health, there are signs of poor gum health that you can – and should – look out for on your own. These include problems with gums that often bleed when you clean your smile, trouble with swelling and tissue discoloration, persistent bad breath, and changes in your gum line. If you have concerns about your periodontal health but are unsure how serious the problem might be, we can use diagnostic imaging technology to provide important feedback.
What Our Practice Can Do For Your Gums
If we catch a problem with your periodontal health in time, we can provide preventive care to fight bacteria and keep an infection from causing lasting difficulties. For someone who has more advanced problems already, we can discuss different services that are beneficial. These include treatments that rely on soft tissue lasers to fight bacteria and remove diseased gums.
Our Encinitas/San Diego, CA Periodontal Practice Can Help You Protect Your Gums
A habit of smoking or using other tobacco problems can make it difficult for you to maintain healthy gums. Dropping this behavior will provide important, long-lasting benefits. To make sure these tissues are healthy, you can reach out to our periodontal practice and learn about our different services. To find out more about how we can take care of you, please call Dr. Kania's office in Encinitas/San Diego, CA, at (760) 642-0711.