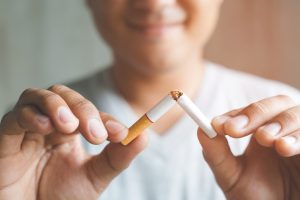 Tobacco use can have several negative effects on your overall health. One concern is that cigarettes and other tobacco products can make you more susceptible to periodontal problems. How much trouble can this ultimately cause? If your infection is not properly treated, you can have more difficulty managing other health conditions, you can face a higher risk for tooth loss, and you can even become more vulnerable to heart problems! At our Encinitas/San Diego, CA periodontal practice, we can help you protect your gums by providing important ongoing care. We can also help you identify issues that make you more vulnerable to periodontal disease.

Are Your Habits Elevating Your Risk For Gum Disease?
If you want to effectively protect yourself against gum disease, you should look at how your daily behaviors affect your risk for the onset of an infection. Good oral hygiene is certainly important. After all, your daily efforts to brush and floss will remove bacteria that can build up under your gums and start to affect your well-being. Cutting tobacco to prevent issues with gingivitis can also be a good idea. You can speak with your dentist or periodontist about different behavioral changes that can make you less vulnerable to problems over time.
Recognizing Signs Of Poor Periodontal Health
If you have concerns about your periodontal health, you can meet with us to undergo a diagnostic review of your gums. By performing this review, we can determine what you might need to do to address problems that are affecting your health. When an infection is caught in time, we can recommend preventive services to clear away bacteria that are responsible for causing gingivitis. Through a scaling and root planing, we can both fight the buildup of harmful microbes and treat the surfaces of teeth so future bacteria have more difficulty gathering on these spaces!
Treating Periodontal Disease
A person with periodontal disease can receive protection against their infection, but caring for their gums can call for more involved treatment. We can recommend Supportive Periodontal Maintenance, which provides recurring treatments to keep bacteria from accumulating. We can also discuss more involved services, including periodontal care with laser tools, to fight a more advanced threat to your gums and general health!
Talk To Your Encinitas/San Diego, CA Periodontist About Protecting Your Health!
Through positive changes in your daily routine, you can lower your risk for potentially serious periodontal problems! Dr. Kania is ready to meet with you and help you recognize the threat periodontal disease can pose to your smile. We can also discuss the value that good habits and the right treatments can provide you! To find out more, please reach out to our periodontal office in Encinitas/San Diego, CA, at (760) 642-0711.