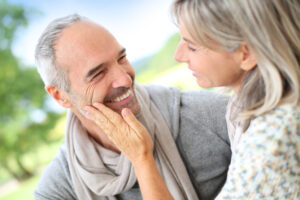 By having a dental implant put in place, you make arrangements to permanently secure a prosthetic appliance. Whether you have one missing teeth or several to replace, this work can lead to lasting benefits for your smile and oral health, and it can even help you return to a richer, more varied diet! At our Encinitas/San Diego, CA periodontal practice, we can provide help to patients who are ready to do something about tooth loss. We are also here to help if you have unresolved problems with gum disease that are responsible for your loss of teeth. We can work with you to make sure you are ready for the placement procedure, and from there we can provide secure, stable dental implants that help you regain a complete smile!
Tooth Loss Can Be A Consequence Of Gum Disease
How likely is it that a person's tooth loss is connected to poor periodontal health? Complications from gum disease are the leading cause of this problem for adults. In other words, a person who wants to restore their incomplete smile may need help managing their periodontal health as part of a larger treatment plan. Fortunately, our practice can help with this. We provide different options for care. From preventive periodontal maintenance to more involved periodontal services that rely on laser technology, we can help you manage an infection and qualify for dental implant placement!
Helping Patients Plan The Restoration Of Their Complete Smile
What will the process of restoring your complete smile involve? For patients who qualify, we can make arrangements to replace lost teeth that start with plans to set a dental implant directly into the jawbone. However, not everyone will be able to start at this point. If you have unresolved problems with periodontal disease, treatment can be necessary as part of a plan to place dental implants. If so, we can determine if LANAP or another service might be necessary. Once the issue is managed, we can proceed with the arrangements to support a restoration. If you are receiving a larger bridge or denture, the placement of multiple dental implants will be necessary.
Talk To Your Encinitas/San Diego, CA Periodontist About Implant Dentistry!
For those who have experienced tooth loss and want to restore more than just their appearance, implant dentistry can have many big benefits. The stability that your implant post provides to your restoration will help you bite, chew, and speak with more comfort. This approach to prosthetic dental work can even help you reduce issues with jawbone deterioration, an issue that can seriously impact you when you have missing teeth. If you would like to find out more about this or any other service that we offer, please call Dr. Kania's office in Encinitas/San Diego, CA, at (760) 642-0711.