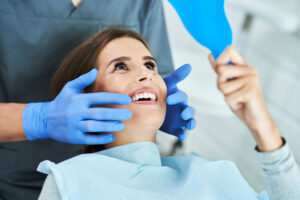 There are different ways to take on gum disease, which can help ensure that your condition is properly managed. Before treatment begins, it is important that you undergo a thorough evaluation. At our Encinitas/San Diego, CA periodontal office, we provide reviews that make use of advanced imaging technology so that we can provide accurate diagnoses and help patients understand the care they require. Once you have this information, you can more easily move forward with services that can protect your smile and general health.
The Importance Of Closely Evaluating Gums
There are different stages of periodontal infections. A person who is dealing with gingivitis has the initial stage of an infection. At this point, the problem is reversible, which means timely care gives you the chance to return the tissues to good health. If the infection progresses and becomes more severe, ongoing services may be needed to control the bacteria that affect your gums. Knowing how severe your infection has become will make it easier to take the problem on and make sure that your condition remains under control.
Using Advanced Imaging Technology To Review Your Periodontal Health
Through our use of advanced digital imaging tools, we can capture clear and close images of your periodontal tissues. Because we can quickly capture and share them with you, we can help you understand what is happening with your gums. In addition to this, we can break down treatment options and how they can help with your specific concerns.
We Provide Treatment Options For Different Degrees Of Gum Disease
There are different ways in which we can take on problems with gum disease. For patients who have not yet experienced advanced symptoms, we can discuss the benefits of preventive periodontal services. This can take the form of scaling and root planing, or it can mean beginning a routine of supportive periodontal maintenance. Supportive periodontal maintenance can take the place of regular appointments in order to protect you against negative changes to your gums. We also provide more involved work, including work with laser tools to remove bacteria and infected tissues. For our patients who have already suffered tooth loss because of poor periodontal health, we can make implant dentistry part of your recommended treatments to help fully restore your smile and health.
Talk To Your Encinitas/San Diego, CA Periodontist About An Evaluation For Your Gums
With better diagnostic imaging tools, our practice can help you understand what is happening with your periodontal health. From there, we can make better recommendations for treatment and help protect you against gum disease! If you would like to find out more about how we can take care of you, please call Dr. Kania's office in Encinitas/San Diego, CA, at (760) 642-0711.